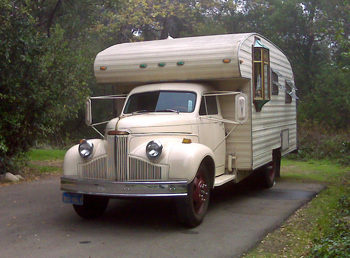 Interesting People: Along the Way in El Capitan California
We like to say that "You Have To Go First" to me interesting people.  It is true for us!
We are just off of a grueling two weeks in Southern California visiting dealers and exhibiting at the California Women's Conference.  We were invited by Maria Shriver to put our Luminos in the speakers gift bag.  As we like to say it, 25,000 women and one guy…Bob.
We decided to cruise up the coat and stay at a favorite place called Ocean Mesa RV Resort that adjoins El Capitan State Beach.  We are still working every day, but start and finish the day with long walks either on the beach or through the canyon.
November 3, 2009 started the same way with a hike to the beach.  Bob wanted to get some stereo sound recording of the surf for a Korg project he is attempting.  So after gather some sound files, we walked through the parking area back to the coach and decided to take a swing through the campground in the state park.  Our first impressions were that Disney Imagineers must have chosen this campground as the model for Fort Wilderness at Disney World in Florida.  Of course theirs was a grander scale.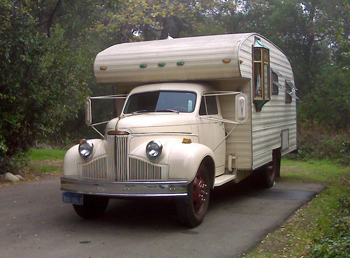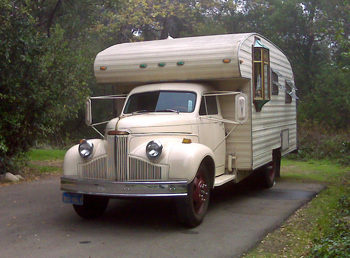 As we walked through the campground we came upon what looked to be the predecessor of our coach.  It was a 1948 Studebaker truck with a custom box built on the back.  The first thing we noticed was how restored and perfect it was.  Brass fittings and stained glass alcove windows were unique and inviting.  As we walked by, we notice a man sitting near an unlit campfire ring reading a book.  Bob yelled to him, "Beautiful!"  Wendy echoed the sentiment.  A little hard of hearing he waved us over and Wendy asked about the trucks story.
The man's name is Pat and he lives just a few miles away in Santa Barbara.  He and his wife of 32 years, Ann, now take the truck out on occasion for short trips where they use to traverse the country in it on a regular basis.
Pat told the truck origin story with delight and a glint in his eyes.  As it turned out many many years ago while living in Hollywood, he borrowed a neighbor's pickup camper to go to Mexico.  Pat and his daughter Kim set out and had such a good time that they longed to have their own RV to experience the wonders of America.
One day near San Diego visiting friends, Kim walked through the neighborhood.  On her walk she spied this truck.  It was a flat bed one ton Studebaker and she ran back to her dad saying there was a for sale sign on it.  Pat bought the truck on the spot and dreamed of building a rear cabin section on it.  As a person who did restorations and projects in construction, this would be easy.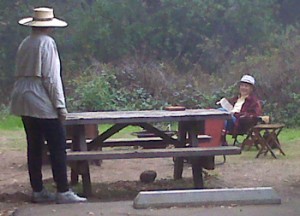 The first project before driving it home would be to paint it so that his neighbors would not object.  So he did a quick paint job painting it blue.  The job was quick and as it turned out, his paint preparation ob was not so good.  So, on the way back to Hollywood from San Diego, big patches of paint flew off.  When he arrived back, he was greeted by his neighbors remarks that it was "Big and Ugly."  The truck had a name and its historic California plates read "Big Ugly."
In his youth, Pat was a railroader on a narrow gauge railroad in Alaska.  He told stories of the Indians bringing him gifts calling him "Baggage Man."   And of returning 50 years later and being greeted by an Indian woman that remembered bringing him those gifts.  As Pat said, a box of blueberry's in the fall and a quarter of a mouse in the spring.
Wendy shared that she was a third generation railroader and the bantering stories ensued from there.  Bob told the long story about how Wendy's dad helped them select a vintage railroad horn that they installed on the Grizzly.
Pat invited us on to the truck home and the inside was elegant and appointed with brass fittings, a hanging Tiffany lamp and a customer miniature wood stove that they had custom made to warm the truck.  This small stove had a glass window to view the fire and it had the image of a silhouetted Cormorant that he had hand cut from a metal plate.  The entire inside was finished wood and the cab of the truck was in original condition except for the new age stereo, cruise control and power windows.
We big them farewell and as we walked back to the Grizzly, we said that these stories need to be told and that you have to go first to meet interesting people.  And yes, we believe everyone has great stories.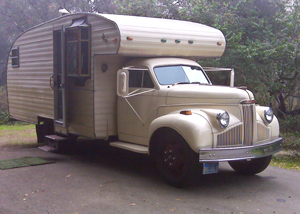 Big Ugly!  Not so ugly!!!
(These images were shot with our Blackberry cell phones so the quality is not the best.  We now carry one of the high resolution cameras wherevevr we go)