Happy Holiday from Mesilla New Mexico


Wendy and I  are the least likely people to follow tradition.  As close as we get is to be in Mesilla New Mexico for the Christmas Eve celebration.
How to describe this place on Christmas Eve?
Mesilla is probably what Santa Fe was like 100 years ago.  At one end of the town square is the Catholic Church.  The three other sides have very old adobe buildings that house shops and offices.  There is a Nambe store on one corner across from the place where Billy the Kid was tried. Another corner has a fine dining restaurant and yet another corner has a shop that sell New Mexico artifacts and every junky tourist item you can imagine.  Filtered in between are other shops and offices.  At the center of the square is a bandstand gazebo looking thing and around it are sidewalks that converge to the center.  The town is ringed with restaurants, businesses and homes.  The people here are friendly, hard working and seemingly very happy.  Not much of the outside world seeps in.
Red Chile's hang everywhere in this town.  Chile's are a staple of the diet and economy here.  Green Chile stew, Chile Rellenos and Gordas are what you have to east.  That Burrito smothered Christmas does not commemorate the time of year, but the fact that you want it covered in red and green chile sauce.  And of course it is homemade every day.  Certainly not from New York City!  In this southeast corner of New Mexico, the term localvore has been a way of life for centuries.  Sitting in one of the restaurants around town, you see business people, police, men and women in uniform and that geeky looking guy is probably a rocket scientist from White Sands or Alamogordo.  Or maybe they are one of the 600 or so New Mexicans building the Spaceport just a few miles from here.
Mesilla is a town that has many of its kids are fighting in Iraq and Afghanistan.  Seems like a disproportionate number, but you soon realize that they were some of the first to enlist because they believe in what they are fighting for.  I am certainly not one to second guess their intentions or beliefs.  Fort Bliss is not too far from here just across the Texas border in El Paso.
Some really good southwestern New Mexico restaurants are here or close.  El Commodore, Andele and Chopes are well known for their down country cooking.  You can read reviews that sound almost like religious experiences.
Most Saturdays there is a trio of very old New Mexicans playing and singing in one corner of the town square.  On occasion, a car show breaks out that does not rival any of the big weekly shows in Southern California, but I think they are just as proud.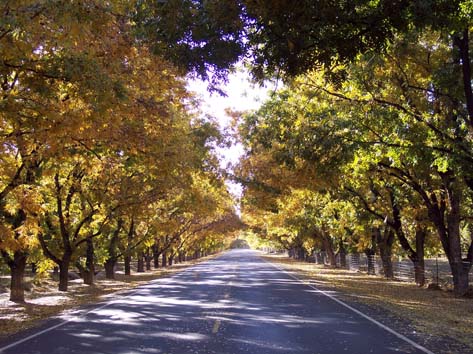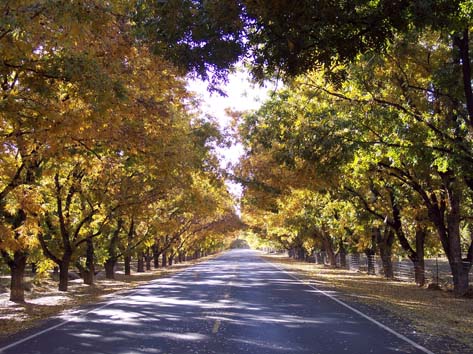 Down the road is Stahmann's.  Once a cotton plantation, old man Stahmann realized that synthetic clothing was eating away at his business, so he started to plant some pecan trees back in the thirties.  Miles of pecan trees line Highway 28 on the way to Stahmann's Store. In the summer their branches spread out over the road in an arbor of green. In the winter they rest against the sky like soldiers in formation. In the fall their branches bend with the rich weight of nuts yet to be harvested and in the spring they are decorated with a filigree of green. The mature pecan trees at Stahmann Farms are always beautiful whatever the season. But seventy years ago when Mr. W.J. Stahmann and his son Deane purchased this stretch of countryside in the Mesilla Valley thirty miles north of El Paso, the area was little more than a barren wasteland of scrub, sand dunes and hidden potential.
A buggy-maker by trade, W.J. Stahmann came to the Mesilla Valley from Wisconsin, on a barge traveling down the Mississippi, keeping bees along the way. Settling first in El Paso, W.J. Stahmann raised cotton and tomatoes, built a canning plant and opened four cotton gins in the Mesilla Valley. In 1926, W.J. purchased the first 2,900 acres of what was to become Stahmann Farms in Southern New Mexico. He and his son Deane cleared the land with teams of mules and planted acres of cotton. The Stahmanns experimented with different types of cotton and Deane developed a number of new varieties that are still being grown around the world. Deane also set up research farms in Jamaica and Mexico in order to experiment with growing cotton year round and used Chinese geese to weed his cotton fields in New Mexico.
Seventy years later no one knows why Deane Stahmann decided to pull out his cotton plants and plant the first pecan trees in the valley. Some say it was his wife's idea. Others say it was the economy or the development of synthetic fabrics. Whatever the reason, he planted over 4,000 acres of pecan trees in the early 1930's on two separate plots of land, the 2,900 acre Santo Tomas Farm and the 1,100 Snow Farm. Soon the Stahmanns became the largest pecan producing family in the United States. Years later, when Deane Jr. planted 2,000 acres of trees in Australia, the Stahmanns became the largest pecan producers in the world
Still, there is something about this places that is different that keep bringing us back at this time of year.
We have been a part of many Christmas Eve celebrations around the world and yet there is something special here.  We have been to tree lightings in downtown Annapolis Maryland where the 1600's city comes alive with decorations, lights and music.  We have been on San Diego bay for a parade of lights with hundreds of boats all decorated to celebrate the holiday.  We have been on the street of Groningen in the north of the Netherlands to witness the quiet processions.  We have seen the streets of London illuminated for the holidays and been at Rockefeller Center when the New York City official tree is lit.  Many more wonderful places and many unique celebrations.  Mesilla is different, unique and somehow outdoes all of the other grand celebrations we have experienced.
This is not our first Christmas Eve in Mesilla.  The experience has always been the same though.  I can't honestly say it is better.  It is certainly different.
This year our friends, Tina and Dennis from Thousand Oaks California joined us for the evening.  We all arrived in Las Cruces looking for a quiet Christmas.  We are staying just outside Old Town Mesilla and walked to Mesilla town center.
We turned out of our street and headed on highway 28 south.  As we came upon the town line, both sides of the street were lighted with Luminaria.  About one meter apart, we walked the half a mile toward town center.  Every side street had Luminaria as far as the eye can see.
These are not the plastic electric versions that you now see in Santa Fe, but the real deal.  High school kids, parents and volunteers take paper lunch sacks and roll the top edge to stiffen the bag.  Then they load sand into the bottom and place a votive candle in the bottom.  They assemble, not just a few, but thousands of these paper lanterns.  On December 23rd, other volunteers place the bags throughout the town and on every road coming into Mesilla.  Every road from town border to town border has Luminaria one meter apart in perfect alignment.  Some towns might worry about vandalism, but not this one.  That just does not happen here.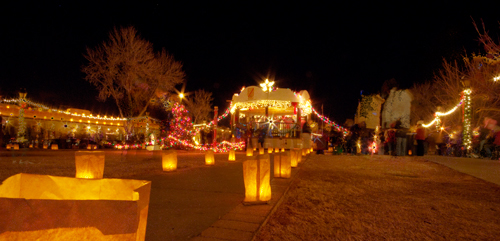 As we walked into the town center, there was a service going on in the church.  There were thousands of people assembled in the town square.  Tourists, locals, citizens and visitors from Las Cruces and El Paso were there.  Almost all there carried lit candles.  There were the very old and the very young.  A few in fine fur coats with Prada shoes and New York hair were there, but they did not act like they were special in any way.  The dogs were out with their owners in tow.  Horse drawn long wagons circled the town square giving Christmas rides.  Cars entering the square dimmed their lights as if a form of respect.  A bleacher at one end of the square looked upon the bandstand all illuminated in holiday lights.  Some Christmas songs were being directed from the bandstand as those in the bleacher held lit candles and sang along.
Almost all the businesses were closed.  This was not about selling, but what an opportunity.   There are not this many people in old town Mesilla the entire rest of the year.  This is a special night though and it is just not done that way here.  That would be way too commercial.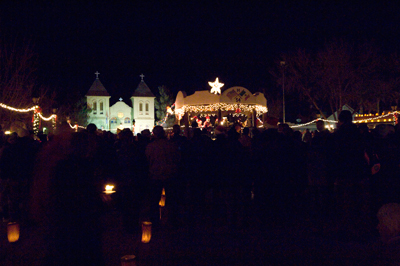 Many of the businesses opened up their building with holiday displays and scenes of this holiday.  More and more Luminaria were at every turn.  Hallways were decorated, side street illuminated and homes were decorated to match the realism.  On occasion, we saw some really tacky displays, but they were so tacky that they seemed to fit.
Then there was silence.  A fireman lead a group of police, fire and military to honor one of their sons who was killed in Iraq by a sniper in late November.  He described the "Missing Man Table" that had been erected in front of the bandstand honoring his loss.
The fireman began:
"As you entered the area, you may have noticed a table at the front, raised to call your attention to its purpose — it is reserved to honor our missing loved one.
Set for six, the empty places represent Americans missing from each of the five services
Army, Navy, Marine Corps, Air Force, Coast Guard – and civilians.
This Honors Ceremony symbolizes that they are with us, here in spirit.
Some here were very young when they were sent into combat; however, all Americans should never forget the brave men and women who answered our nation's call and served  the cause of freedom in a special way.
I would like to ask you to stand, and remain standing for a moment of silent prayer, as the Honor Guard places the five service covers and a civilian cap on each empty plate.
The honor guard in silence and with dignified movement with quiet music as background moved into position around the table and simultaneously places the covers (hats) of the Army, Navy, Marine Corps, Air Force and Coast Guard, and a civilian hat, on the dinner plate at each table setting. The Honor Guard then departed
The fireman said, I would like to explain the meaning of the items on this special table.
•The table is round — to show our everlasting concern for our missing men.
•The tablecloth is white — symbolizing the purity of their motives when answering the call to duty.
•The single red rose, displayed in a vase, reminds us of the life of each of the missing, and the loved ones and friends of these Americans who keep the faith, awaiting answers.
•The vase is tied with a red ribbon, symbol of our continued determination to account for our missing and this lost child of Mesilla.
•A slice of lemon on the bread plate is to remind us of the bitter fate of those captured and missing in a foreign land.
•A pinch of salt symbolizes the tears endured by those missing and their families who seek answers.
•The Bible represents the strength gained through faith to sustain those lost from our country, founded as one nation under God.
•The glass is inverted — to symbolize their inability to share this evening's celebration
•The chairs are empty — they are missing.
Let us now take a moment of silence to remember him and all of the others whose names are etched into the plaque at the end of this town square."
Some recognized what was going on.  Others stood in front of the Christmas tree and had their pictures taken.  Some kids screamed out in the joy of what they were seeing.  Some wept openly.  I listened intently to report this and gain another grain of information why this town is so special and why this annual celebration seems to top all from around the world that I have been a part of in my life.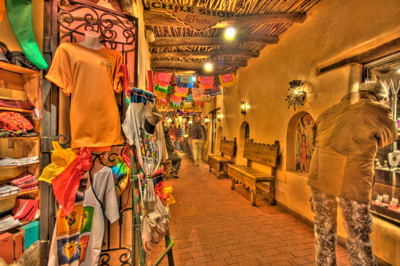 The four of us walked around the square taking in all that we could see, hear and feel.  We walked north from the eastern side of the town square toward an old mainstay restaurant called La Posta.  We walked in for a bit of warmth and watched as people came and went for this Christmas Eve dinner.  There were families with three or four generations waiting for tables.  The place was decorated in accordance to the season and the same energy that was in the square was here as well.  People just happy to be with friends and family.  Patiently waiting, they shared stories of the last year and were obviously reuniting with this evening as the excuse to be together for this very special Mesilla holiday
Tina and I took pictures and Dennis and Wendy took in what they could.  Wendy with a candle in hand also made sure that the Luminaria's she saw that were out of place were rearranged in proper order.  It seemed to me that it was her quiet way of being a part of this.  A way of contributing!
Ah Ha!  Maybe that is it.  It just may be that this town for one night a year attracts people who want to give and not receive.  A collection of humans and animals that come to be a part of something and want nothing else but to contribute.  A collective of positive energy and intension.  Could it be so simple?  Could it be so unique in our experiences?  Maybe not, but I chose to believe that it is what makes this place so different on this day every year.  It is my hallucination I guess.  Or is it real.
Merry Christmas, Happy Holidays or whatever your holiday greeting of choice from Mesilla New Mexico