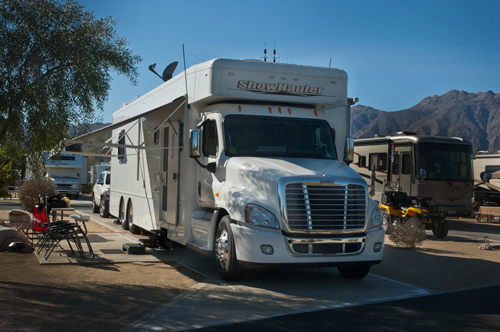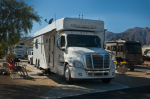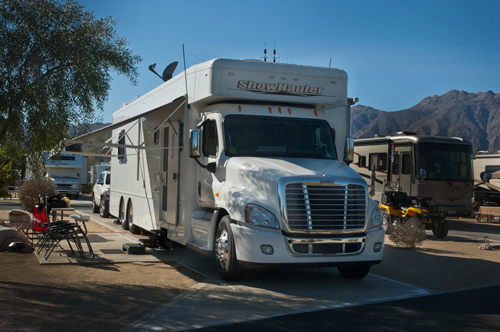 The expansion of our business in 2009 created the need for a bigger, more reliable and powerful coach.  We began our quest in earnest to replace our Monaco with a coach that could climb the mountains of the west and provide us an off-grid base of operation.
Our first attempt was to find a full-production coach that we could build out differently.  The timing was poor because even the powerhouse Monaco was in chapter 11 bankruptcy.  We talked to a number of custom conversion companies as well as drove some very impressive coaches like the Prevost based Teschner.  None quite fit the bill.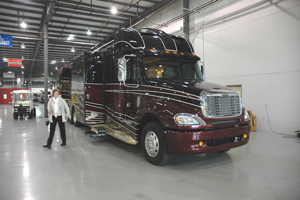 Our game plan changed to make a trip to Indiana to visit Dynamax and Farber.  Farber was open to a coach as long as it looked like a bomb squad truck and Dynamax chucked us out saying "no custom!"  While at Dynamax, we saw a prototype version of their Ultra being built on the Mercedes-Freightliner Cascadia.  Wow!
Sitting in the KOA in Middlebury Indiana the evening before we were to leave, in rolled a monster with sides painted with logos named ProBar.  This monster was built on a Fredightliner Columbia 18-wheeler cab.  Being in the same industry as our business, we chatted with the CEO owner about the truck and our industry until it was dark.  He said, call this guy name Lonnie and he will show you what they can do.
The next morning, we called Lonnie at a company called ShowHauler that is based just a few miles from where we were staying.  He said come on over and I can give you a tour.  Well we spent most of the day there and learned all about what they had done for entertainers, racers and other business people.  We told him what we wanted and needed.  About five of the things we wanted were firsts for them and their attitude was, "bring it on."  We asked the all important question….How much?  To my pleasant surprise, it was less than half the price of a high end Monaco that we had looked at.  Do you take American Express?
We left Lonnie armed with a book full of information and even more important, an Excel spreadsheet with the many options they already offered with a few blank fields for us to fill in our wants and for Lonnie to fill in the prices.  So, withing a few weeks, we had a deposit down and began the build.
Below are some pictures of the process of the build and our finished coach.  First though, it is important to understand why and how we went about this.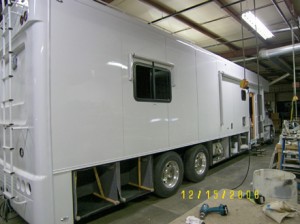 When we started Keys Care, we had never imagined that it would grow so large and qucikly.  Unlike most companies, as founders, we were in the field traveling around the US more than 300 days a year and we just wore out our Monaco.  As you can imagine, everything was a compromise on the production coach and we modified it as good as we could for desks, storage for products and the all important internet connections.  We knew we had to stay state-of-the-art and that it would be difficult.   With production ramping at the factory, we found ourselves starting to design the ideal coach based on our needs.
As we would drive our Monaco from meeting to meeting we started to compile a list.  Even though we had not discovered ShowHauler at the time, it became a notebook  full of thoughts and ideas.
Fast forward to our visit at ShowHauler.  Lonnie spent the better part of the day showing us what they had done, toured us through the production facility showing us what they were building and walked us through the many pictures of actors, musicians and racers whose coaches filled the walls.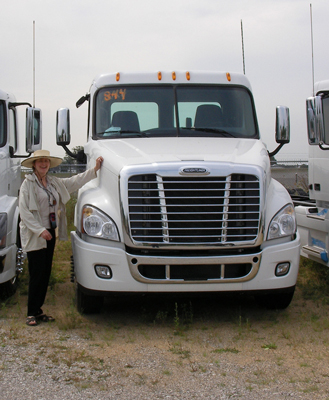 The a walk to the holding pen where various truck chassis were parked.  Freightliner Columbia's and Volvo's filled the yard and Lonnie told us of the features and benefits of each.  In the back row, we spotted a Mercedes-Freightliner Cascadia with the number 844 written on the window.  It was beautiful and Lonnie told us that it was the first wind tunnel designed truck and was the first since Mercedes had acquired Freightliner.  It is 14″ wider in the cab, quieter, smoother and more luxurious than any other built to that date.  It also had a new monster Mercedes Detroit Diesel DD15 engine with huge horsepower and even more torque
Then we sat in his office and told him what we were looking for.  We said:
We want a motorhome that was part office and part living quarters
We did not want to compromise on lifestyle and comforts since we will be traveling full-time.  So, we want a chefs range, drawer dishwasher and a washer dryer as well as a full bathroom.
The main slide would have to flush floor and support a desk and be able to be walked into with at least a 6′ height clearance.  Lonnie said, how about some ceiling fans.  We have plenty of room to go high.  We just need to raise the roof about 9″….OK, we were starting to get the idea!  Although another first for ShowHauler, this one seemed doable.
We wanted a cutout to the drivers compartment and instead of the typical bunk, we wanted cabinets to house the routers, file servers and printers.  Lonnie cringed a bit because this would be one of those firsts.
We also wanted the entire coach to be wired for ethernet and roof based Wifi, EVDO and G4 Wimax antennas for the dual EVDO cellular internet router.
Now a toughy! We want to be off-grid for at least ten days living in truck stops or our customers parking lots if necessary.  Lonnie said sure, bigger tanks, extra water tanks under the bed.  Bigger propane tank! Power would be tough though!
Power, no problems!  ONAN has just come out with a 100% AC Hybrid system.  Just add that we said.  Lonnie said, another first!
We wanted enough closet space for four season clothing and a Denver Mattress custom air bed.  We already knew there was enough bay room underneath for us…probably twice that of the Monaco.  Lonnie recommended a space age insulation for the entire coach and recording studio sound deadening for the bedroom to make those truck stops a little quieter.
The list grew as did the price tag, but surprisingly not that much!
We finally had the floor plan based on an old Pulman personal rail car with most of the coach side loaded with a hallway down one side.  We began the build with just a few phone calls during the process as well as one visit.  We could not stand waiting we just had to see it.  Our first partially completed view of 844 was emotional.  It was beautiful.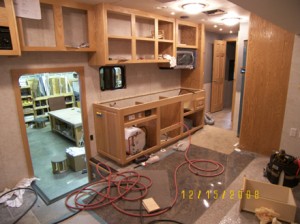 The next couple of month saw the build continue with very few modifications.  Lonnie sent pictures of the progress every week.
When we finished the coach, the inside is part office and part luxury living quarters.  Instead of the traditional sofas and dinette, we added two Norwegian desks and our favorite Ames chairs to the salon.  These can be seen in the picture gallery below.
December 23rd found us arriving in Middlebury to pick up what we affectionate now called the Grizzly.  Still 844 to the ShowHauler guys, we spent most of the day waiting for the last minute touches to be finished.  We sneaked some looks and also spent time with a couple of potential customers telling them about the process.  Now starting to snow, it was time for the test drive.  Lonnie sensing my concern about the snow slammed the brakes on at a stop light on a snow covered road.  It stopped straight and true.  Freaking amazing I thought.  A stop for fuel and propane and were were back at ShowHauler to hook up the car and head back toward the factory in Baltimore.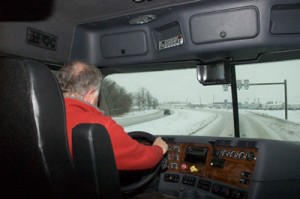 It was amazing driving to coach…all 46′ of it.  The roads and the Indiana Turnpike were snow covered now as the sun began to set behind us.  Nearing Toledo, we noticed that there was no one on the road.  We stopped at a turnpike rest area for the evening with now becoming obvious that we would be driving home on Christmas day.  When we pulled into the rest area, I pulled between two 18 wheelers that were sort of haphazardly parked.  When I got out, I almost fell because of the icy conditions and the entire right side of the coach had a half-inch of ice caked on it.  Amazing!
The next day was bright and sunny as we headed east.
All-in-all, what a wonderful experiencing building our coach.  The side benefit is we gained an entire new group of family members in Lonnie, Chad and the rest of the team at ShowHauler.  Not only do we feel they are family, they have also made us feel a part of their family as well.  With the love and care they have given us, I think we must just be renting the Grizzly because they still treat it with so much care and concern.
Thinking about buying a new coach?  Whether it is <30′ or a monster like ours, call Lonnie before you sink your hard earned money into a production coach.   www.showhauler.com
Specifications
2009 Mercedes Freightliner Cascadia
DD15 Engine
Eaton 13 speed transmission
8-wheel drive…no, no tag axle
Air and leaf suspension
46′ long
13′ 4″ tall
35,000 pounds
Some pictures on the road.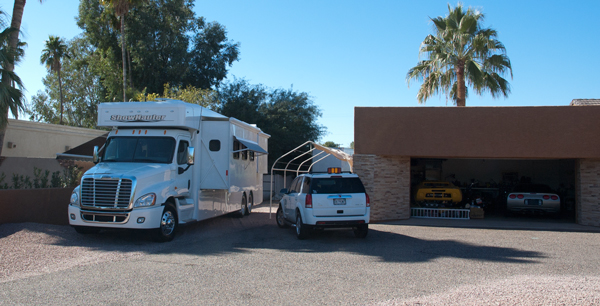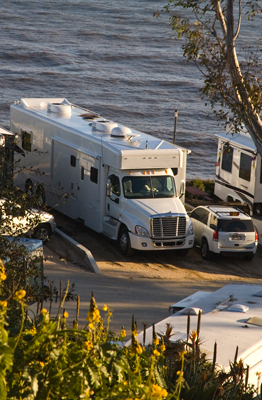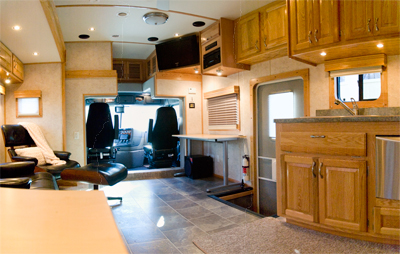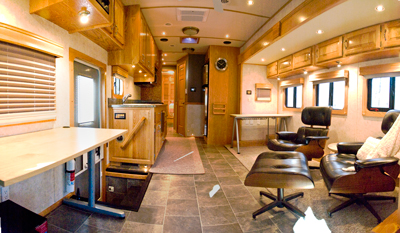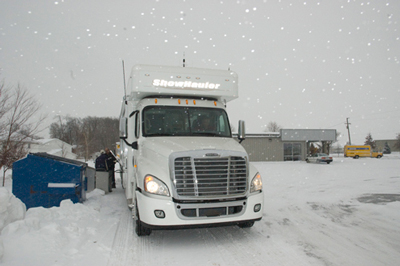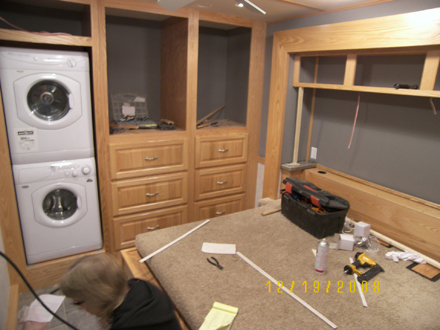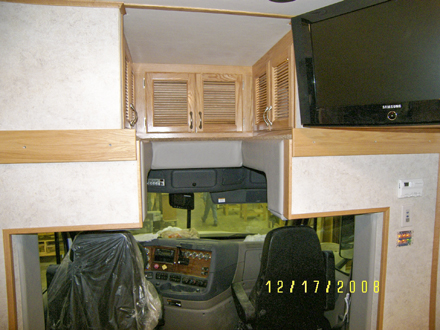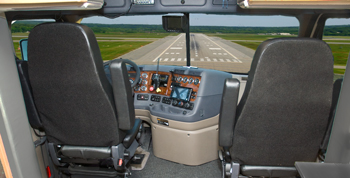 [mappress]