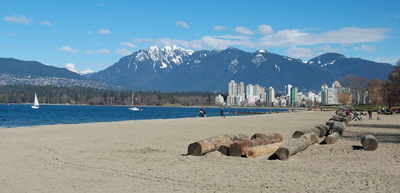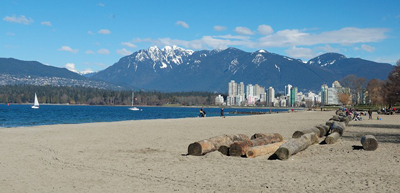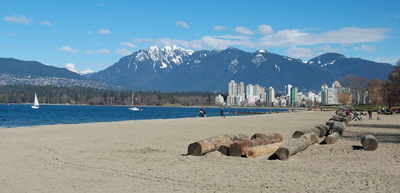 Kitsilano Beach is one of the most popular beaches in Vancouver, BC. You can sit around and people watch, or you can join the rest of the adrenaline junkies for a game of beach volleyball. This beach is quite the happening place in the summer time and you will find the beach packed with tourists and locals alike.
This beach area has family fun and a pool for the kids to enjoy, as well as kids park and swing set. The beach itself is usually populated with the age range of 15 to 30 year olds, but you will see many seniors trekking on the path that crosses the beach area. Kitsilano is an active area, so you will find yoga classes going on in the morning, mommy stroller groups, and joggers on every beach path.
The view from Kitsilano beach, also known as " Kits Beach", is spectacular as your focus goes from the North Shore Mountains, to and onto the open bay. Kitsilano beach is located just on the north edge of the neighborhood of Kitsilano and faces into the Burrard Inlet. It has the longest salt-water swimming pool within Canada. Kitsilano was also voted #1 as a beach area and best neighborhood to live in.
We were very lucky the Saturday that we arrived that the sun was out and it was warm.  We walked most of the area shooting some video in hopes of capturing the flavor.  It is truly one of the nicest places in Vancouver with many nice people, Bald Eagles and breathtaking views.  All right in the middle of a vibrant city.  We hope you enjoy it.
[flashvideo file=http://www.chilltravelers.com/video/kits_air_sm.flv /]
[mappress]