There are so many positive things to owning a motorcoach that is built on a Class 8 Freightliner Cascadia truck.  Said, there are a few disadvantages compared to a purpose built Class A RV.  Some you innovate around and some you just live with.  In this case somebody else's innovation made our life easier.
Since building our Grizzly, our pet complaint was about our dashboard.  There is no real flat level area to put things on while underway.  Sometimes you need to set your cellphone down or the iPad.  The Cascadia has this little area that is less sloped than the dash, but hit a bump and they go sailing down the dash and crash onto the windshield.  We tried those sticky pads and even cut out a rubber pad to see if that would help.  There is just no room for a swing arm desktop or table between the seats.
We were on our way from the east coast and bouncing around the Chicago area toll roads when a bowl of trail mix went flying off the pad and ended up all spread over the dasd and into the defroster vents.  After cleaning that up, we talked about building some sort of platform.  The reality was that I did not need a woodworking project, nor am I a woodworker, so the idea of making my own was only food for conversation.
What's the saying?  Just ask the universe and the universe will provide…right?
So, we pull into Iowa 80 Truck Stop.  I wanted a couple of things from their world famous truck store and it is crazy not to take the time to walk around just for the fun of it.  I had a bunch of needs and wants in my basket and I turned the last showcase and spotted what looked like a shelf.  There were a couple of brochures and I grabbed one.   The next day while Wendy was driving, I looked at the brochure.  It was exactly what I was looking for, but the bummer was there was no shelf for the Cascadia.  Right then, I grabbed my iPad and sent an email to the address on the brochure asking when and if they would have a shelf for the Cascadia.  I heard back very quickly that it would be available the next week and I immediately ordered one.
Well, it arrived yesterday and I dropped everything and assembled it.  Perfect fit.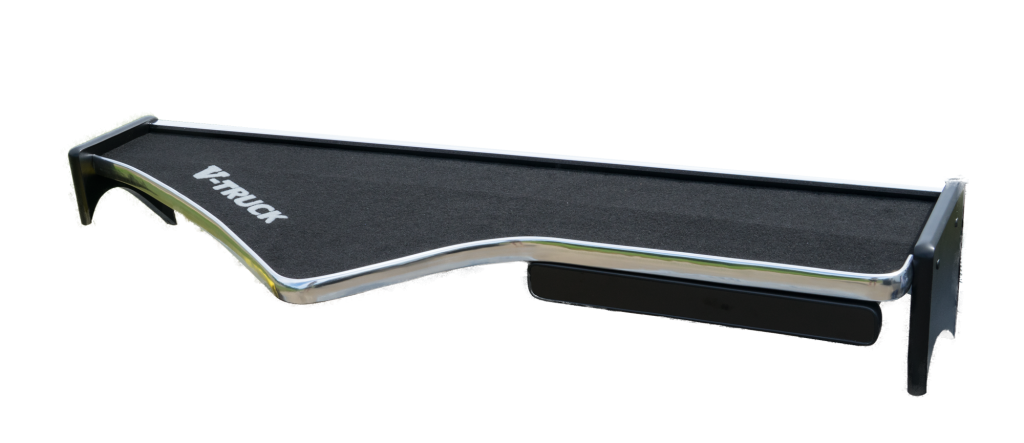 Here is a quick overview of the V-Truck unit.  The shelf unit is very well designed and perfectly fit our Cascadia.  It is a vinyl covered pressboard that uses Ikea style euro lag screws to affix a front and side plates.  The lag screws are tightened by a Z shape hex wrench that comes with the unit.  Each screw has a plastic glamor tip that dresses the unit so the screws are not visible.  They have various types of insert materials and we chose a black carpet.  The chrome trim pieces provides a lip and you can also add a different insert like a shelf liner plastic.  There is a very small drawer on the long version we bought.  It is very small and short.  Not sure what we will put into the drawer and I suspect it is for pens, pencils and paper which do not fit into our electronic paperless world.  Our iPad 3 navigation tablet will not fit into the drawer, but our iPhone 6 Plus's and iPad mini do fit.
Below is the unit installed on the Grizzly.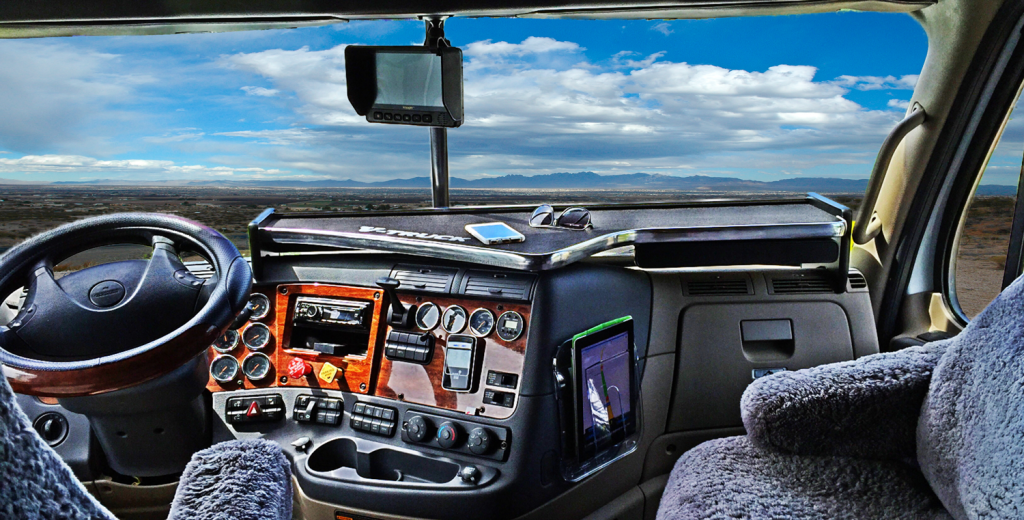 After installing, my first thought was that it would obscure the drivers or the passengers view.  It does clip a bit of the hood view looking right, but not enough to concern us.  It does feel a little big.  The Cascadia dash has so many variations in height that it is impossible to make this shelf any smaller or lower.  The short version cuts off just to the left of the passenger air vents and might be a better choice if you don't want or need the added space.  We do need the additional length and are happy with our decision.
The only "We Will See" is that the trim around the unit is chrome.  Looks very cool, but we are concerned about the glare while driving.  We will let you know here with an update if it is a problem.
Before some of you comment that, "I thought everything chill travelers put in or on the Grizzly has to have more than one purpose."  Well!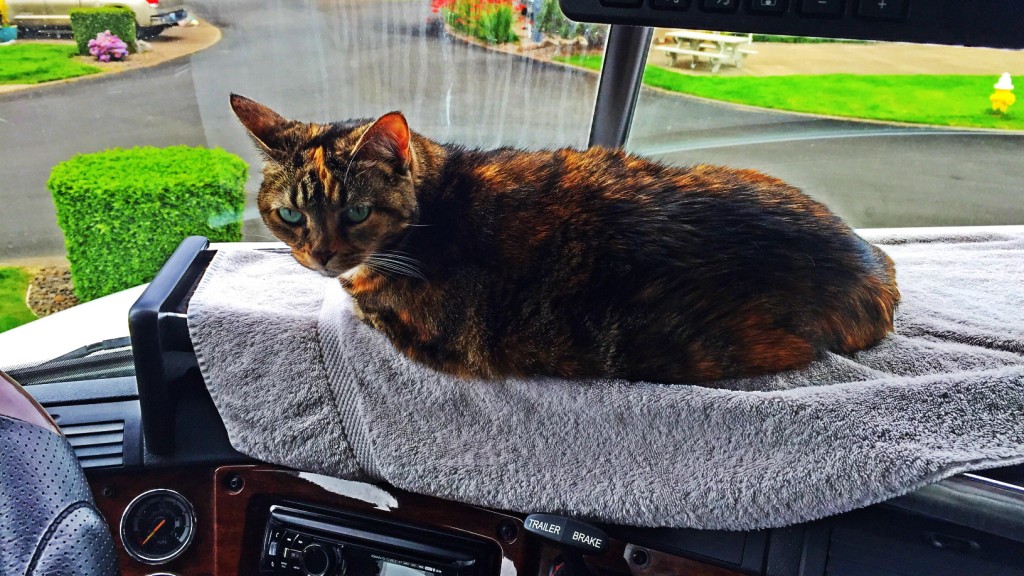 So there you have it!  A new mobile shelf and cat perch.
V-Truck makes the shelf in long and short versions for Freightliner, Volvo, International and Kenworth trucks.  The prices vary from $99 to $199.  Very well made and looks good.  Very sturdy and seems to be quiet.
Click Here or on the product picture above for the V-Truck website