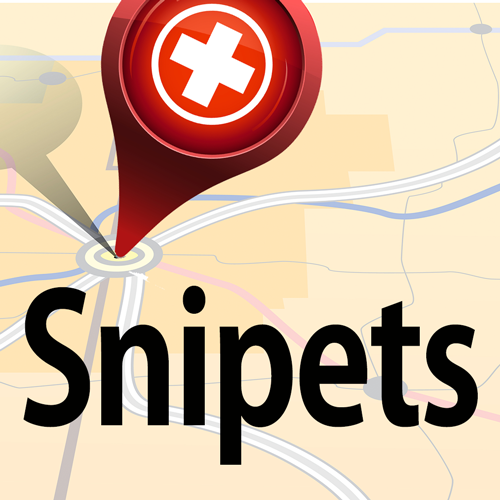 Chill Travelers and Technology
Wendy and I have been traveling at SeeLevel since 2000.  We are more trucker-like then RV-like.  Over the years we have stayed current with technology advances and thought we would share how we navigate at SeeLevel.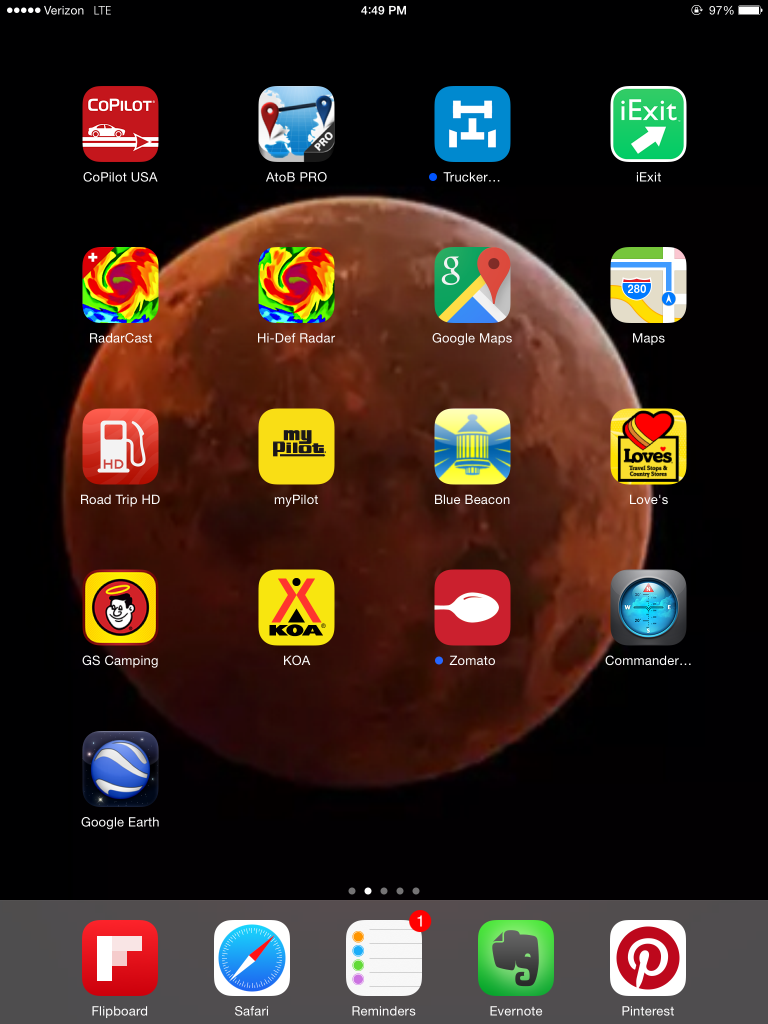 When Wendy and I started circumnavigating the US and Canada, we used an old PC tower with Street Atlas and a program caller PCTV so that we could watch the weather channel through our Direct TV tracking satellite.  We used a bluetooth wireless GPS for positioning and a bunch of software to let various other programs share the GPS signal.  It was state of the art at the time and almost worked.  Of course it stopped working just before a critical turn was coming up or weather out in front of us.
The world changed when we got our first iPad and since then the "Apps" are remarkably easy, accurate and reliable.  Now we cruise down the road with full capability to know where we are going, over-layered weather and all sorts of abilities to look at where we are going.
I think it is sort of self-defence that I am writing this article because I keep getting people asking me what I think about this app or another, what I use and why.
Above is an image of our navigation screen on our iPad 3 which is on the Verizon network, but also wifi'd into our Cradlepoint MBR 1400 router. (note there is a full technology article coming).  Many of the apps seen are obvious.  I will describe a few in detail and why we use them and chose them.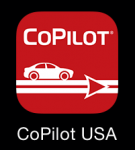 CoPilot Premium is a navigation app that cost $15.  We use it because it has clearance detection and is primarily designed for RV's.  There is a trucker version that offer many truck related features, but is $149.  It has gotten much better over the years, but is a bit clunky.  It is very accurate down to the yard(meter) and has many preference settings to alert you of turns and upcoming points of interest.  It rarely crashes and it remembers your destination after reopening the next day for long trips.   It has a driver only mode with a large view screen for upcoming turns.  The voice announcement of turns and distance is very clear.  We use all the features including traffic scan, but it sometimes takes digging into the software to find all that it offers.  It is very graphical and easy to switch between 2D long range mode and a 3D close range mode.  It offers these views with or without directions.
I am constantly on the hunt for a better software and have not been able to find anything as good as CoPilot for our purposes.  Comment or contact me if you have something better.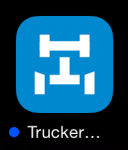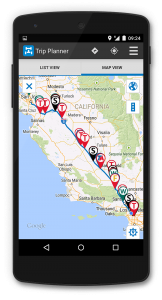 Trucker Path Pro is the most useful app we have.  The primary purpose is that it shows a map with upcoming rest areas, truck stops etc.  It is a free app and has many nuances that make you life easier when boon docking transcon or just looking for a rest area.
The image to the right shows a path on a map.  This uses the GPS on the iPad to place a moving icon on the map.  If you click on one of the rest area or truck stop icons ahead of you, a small screen pops up that tells you how far it is ahead of you and some basic location information.  Click on that box and it explodes out to show you the details of the item you are looking at.  For example, a rest area will show the number of truck parking spaces, overnight parking etc.  Click the map icon and you can zoom into the location, switch to the satellite view and see what the truck parking looks like.  This is especially useful when you are looking for a bigger truck parking area in a rest area when you want to park overnight.  It also will tell you what is near you.
There is a navigation function to Trucker Path that does work quite well, but is truck centric.
Many many more features making trucker path our number 2 pick behind CoPilot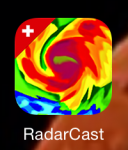 Our third most important App is RadarCast Elite.  It is a $4.98 app that maps real-time NOAA radar onto you location.  It has a animation that tracks storm over a user set period of time and indicators of storm directions.  This app is used by Storm Chasers because it is very accurate and real-time.  It also projects the path of a storm out 30 minutes so that you have a visual warning.  There are all sorts of preferences, radar type etc. that you can set.  Like TruckerPath, it shows a map and uses your GPS location to place an icon.  It then overlays the radar images on to the map so you can see what is ahead of you or headed your way.  We actually used this program to punch through a hook echo and pull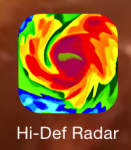 up short of a tornado outbreak in North Carolina.  It also helps us look for breaks in the weather to walk the dog.
There is a very good description on the App Store.  We also use the sister app called Hi Def Radar.  It was the free version and predecessor to RadarCast.  We still use it and that is why it stays on our nav screen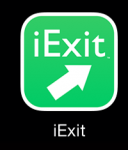 iExit is a great resource for interstate driving.  It is basically a free app version of the book sold in most RV stores and truck stops called Next Exit.  It also provides a map and GPS tracking to show you where you are.  It shows all the interstate exits and by clicking on that exit, it lists what businesses are at that exit.  Great when you are trying to find a restaurant, store or something not truck or RV related.  It has those features as well like dump stations, truck repair, but we use it primarily for food and local businesses.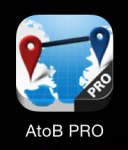 A to B Pro is a simple little app that is very useful.  A really nice feature of the old Street Atlas software was that is had a range finder built in that you could load a distance into the software an it would show you where you would end up at the end of the day or a distance from your start point.  It seems like a very useful feature for a mapping software, but we have not found one other then Street Atlas that does it.  BTW, Street Atlas does not have a IOS app version.  So, A to B Pro is about $3.98 and worth the cost over the free version.  The software presents a screen where you are and where you want to go.  The pro version allows you to click your current location to access your actual current location and then you type in the place you want to go.  It then calculates the mileage.  Trucker Path Pro does this as well, but it is a hunt and click process where A to B calculates the distance and shows you a map of the route it planned.  If you are inter stating it, it rarely deviates from what CoPilot plots.  Look for this app under the iPhone only section of the app store.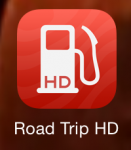 Last on our featured list is Road Trip HD.  This is a free app that is a basic log book automated.  We primarily use it for our trip log mileage, fuel purchases and expenses.   It is a very easy to use app fro fuel.  When we pull into a truck stop we click the add button on the app in the fuel tab and set the mileage.  After fueling, you add the gallons(liters) and either the total amount or the price per gallon.  It calculates and logs your miles per gallon, cost per mile and the GPS location of the fuel stop with its name.  If you return to a truck stop, it remembers where you are and fill that in for you.  The expense and log functions are simple and easy to input.  It will show you reports with graphs and many other meet features.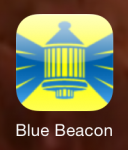 Blue Beacon is our truck wash of choice and they have a nice app that shows you where you are and the closest store.  They are building these quickly and new ones pop up regularly on the app, but do not show up in some of the other apps for a few months.  We usually stop at a Blue Beacon for a wash each transcon when we are dirty and RadarCast says it is not likely to rain where we are headed.  We are 45′ and tow a Jeep Grand Cherokee.  They wash both, Rain-X and detail the both for ~$65.  Tip the crew a $10 and the next time you are through the job gets even better.
Lastly, our Pilot App is our go to for fuel.  This includes Flying J, which Pilot owns, and gets you a pretty good discount per gallon if you sign up with their RV Good Sam program.  Click Here to look at the program offerings.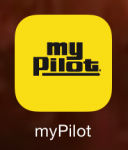 We are signed up as Pilot Good Sam Elite members which gets us 9 cents off of the cash price for diesel shown on the pump.  The greatest benefit is that if you signup for direct billing you get a RV Plus version of the Frequent Fueler program that lets you authorize the pump to start at the pump.  This eliminates the pre-pay that you normally have to do.  You also gain the benefit of using the electronic kiosk to get a receipt if you want one.  With this card and program, you do not have to go into the fuel desk at all because your prepayment is at the pump and you can see the amount of fuel used and the actual cost per gallon at the pump.  So, load it into your Road Trip HD app and you are off without need for a paper receipt.  If you have spent any time at truck stops, you know the lines can be deep and the truckers slow motion.  On average, the RV Plus card saves us ~$0.16 per gallon off of the charge card price.
Another great benefit of this app for those of us that can go partial transcon on a couple of tanks of fuel is that you can look ahead to see what states are the cheapest fuel prices.  In a recent transcon, we saw a $0.40 per gallon difference between Illinois and Iowa.  Looking ahead using the app, each Pilot or Flying J shows the current fuel price quite accurately.
Google Maps is also a mainstay for us because it has a great sat view for finding rest areas with nice friendly islands for our slides, traffic reporting to see blockages and rerouting and it has some very nice features that they are adding to it on a regular basis.  It is very much a go to for us and the only reason it is not a feature app is because most everyone has it and already uses it.
Oh, that funny spot icon in the screen shot above is very significant to us.   Zomato is a foodies search engine for great eats.  This was formerly called UrbanSpoon.  Want some great food on the road and the best way is the Zomato app.  If you know you are going to be somewhere for the evening and you want to find food that is upscale to decadent, use Zomato.  For example, we recently stayed at Iowa 80 Truck Stop and used Zomato to find a great restaurant.  You can read our review of Grandmas Kitchen on our blog and the food a was wonderful.  We also use this app on our iPhones when we are somewhere out and about from the mothership aka Grizzly!
We are always adding in new apps and ditching others on our iPad Nav page.  We will report here anything that we find that we hang on to.  Also, it goes without saying that we would love to hear from you what you like and use as well.
Hope this helps