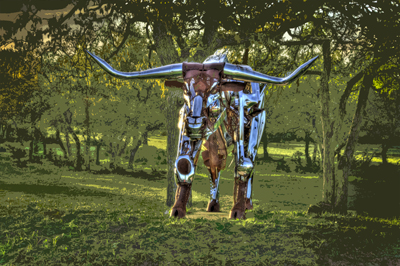 Dateline:  Johnson City Texas
The Chrome Bull!
Seems appropriate for the place Lyndon B Johnson called home.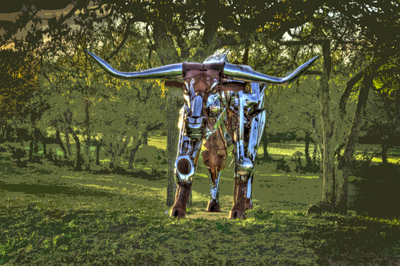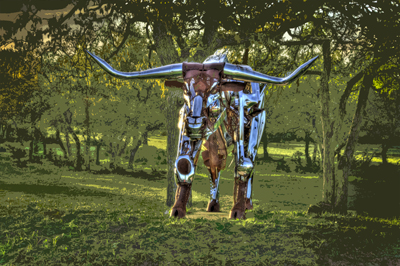 On a hard run from Kerrville Texas, where we were staying, to Austin Texas for a Saturday meeting, we were just outside of Johnson Texas heading east when we spotted a chrome bull standing aside route 290.  We swerved to get a shot and noticed a sign.  It said Benini Gallery 5.2 miles…open Tuesday through Sunday 9 to 6.  Late now, we decided to retrace our steps back later in the day to catch the rest of the exhibits.
After returning from store visits in Austin, we arrive in Johnson City around 4:30p and headed down Flat Creek road in search of the Benini Foundation.  We were warmly greeted by Lorraine Benini, given a brief introduction and set out through the gallery.  Asking if I could take some pictures, I explained to Lorraine my style of HDR photography and offered here the pictures now in my gallery titled simply Benini Gallery (click here to see the images).
Worth the trek and the experience.  Checkout more at www.SculptureRanch.com and www.Benini.com
[mappress]