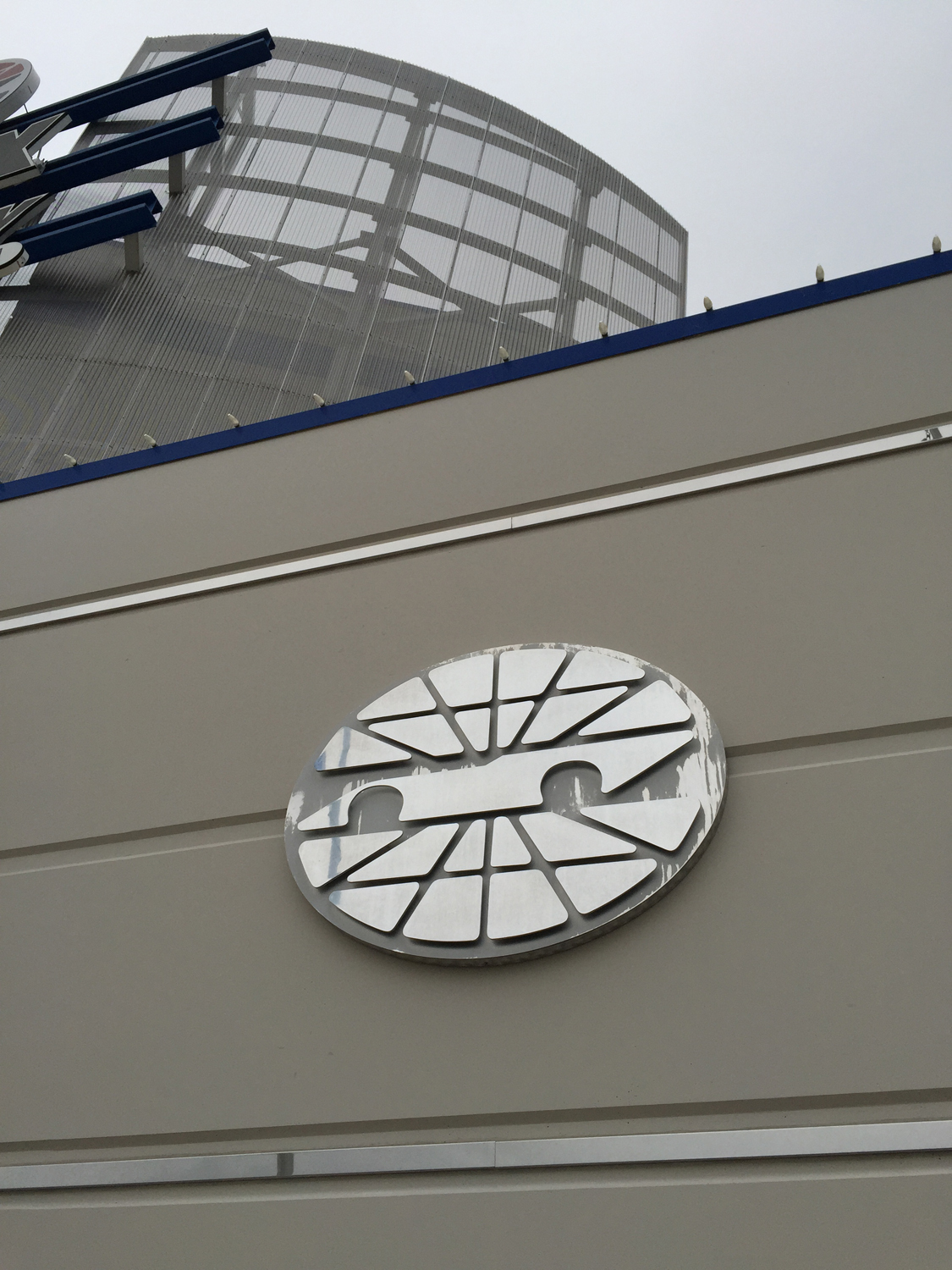 Most religions have their origins in some sort of lore.  Some even seem to have started around what allegedly are alien spaceship visits.  Some live on strong  using rituals and events that bring their followers together on Sunday's.
On Sunday's across America, there is a traveling religous group with its origin steeped in the lore of the south.  Begun in the hills of Virginia, North Carolina and Georgia is a religion that burn a special insence that penetrates deep in the souls of it followers.  Bands of fervent worshipers travel to cathedrals across America worshiping steel idols lead by profit and ministers that speed their way into the hearts of their congregations.
Every weekend somewhere in America there are nearly 100,000 that attend one of these mega collasium churches.  What is even more amaing is that millions watch the services on television.
They bring together followers in the largest mall churchs in America starting with a prayer and driven to an alcholic frenzy for four to six hours of adrenaline pumping ritual.  There is a strict dress code with followers feasting on peasant food and beer.
"If you're even remotely familiar with NASCAR lore, you know the tales. A bunch of dirt poor good ol' boys who lived anywhere from Virginia on down to Georgia had no other choice to survive than the illegal whiskey business. They souped up their cars to haul their bounty, and then ran from the law like their behinds were on fire.
And because, well, heck, boys will be boys, they wound up racing each other on the local highways and byways. Then, somebody got the bright idea to cut a crude track out of some cow pasture somewhere, and the rest, as they say, is history. Junior Johnson was the most famous bootlegger to make a name for himself in NASCAR, of course, but he darn sure wasn't the only one."  The NASCAR Prayer book.
Chill Travelers Joins the Congregation, but Doesn't Drink The Beer!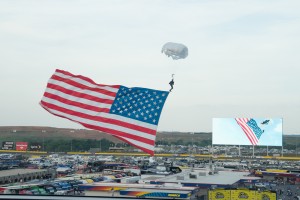 In southwestern North Carolina near the South Carolina border is one of the largest cathedrals.  It is called Charlotte Motor Speedway and seats over 130,000 avid followers of deacons, Ernhart, Johnson, Harvick and 40 others preaching the NASCAR gospel.
You may think I am being funny or twisting the truth, but far from it.  I had the privledge of working with pastor Rick Warren many years ago.  In fact, I helped him revolutionize is Saddleback Church by helping him throw their organ through the stained glass window.  We changed the way evangelical churches were run.  For Rick, it was more about creating community and supporting all the needs of his followers.  Although the purpose is different, the methods are very much the same.  Rick Warren at Saddleback Church.  Rick Hendrick at Hendrick Motorsports.
Trust me, after a couple of times at NASCAR events, you learn quickly that it is a religion.
So how this happened for us to attend this weekends NASCAR All-Star race was more seredipity than a thought out plan to sip this religions coolaid.  It is more like we wanted to attend a concert that happened to have a race attached to it. It goes back to our friends on the Patron Funny Car team and our visit to the four wide NHRA Nationals drag races which is another denomination of the same religion.  We camped at the race track and noticed a poster for the upcoming race.  (You can read that story here)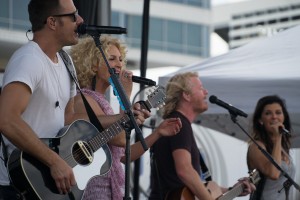 The race was mildly interesting compared to what Wendy spotted on the poster.  Little Big Town was the headliner act for the race.  Wendy has followed them since they performed at Wayne's in Nashville with Lindsey Buckingham of Fleetwood Mac fame.  We were blown away at Wayne's when every other song was a Fleetwood Mac hit.  Their music was fantastic, but the chemistry with Lindsey was so amazing that we thought they were Fleetwood Mac with Karen and Kimberly singing the parts of Christine McVie and Stevie Nicks.
With some subtle left turns we figured out how we could be at the track for the May 15 event.  We checked in with our friends at the motor speedway and they made room for us in the campground and scored us VIP tickets, pit passes and front row concert tickets.  We had to be there.  Everything had come together.  Serendipity!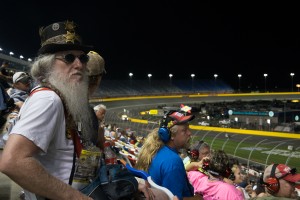 Remember that Chill Travelers are first and foremost observers.  We suspend judgement, have no right or wrong opinion, but we have a point of view that more resemble what a video camera sees without the opinion.  Paraphrasing an old friend and photography teacher, Jay Maisel, he said that a photographer begins to start the story at first shutter click.  Each subsequent click forms the words, paragraphs and chapters of the book that is being created.  This is very true for us when we arrived at the campground in Concord NC.    We were just steps away from the speedway cathedral and the next week would form our story in pictures and experiences.
Because our business is so virtual, we arrived the Monday before the Saturday night race.  Not much was to happen until late Friday.  What we noticed was that the campground was not empty.  In fact, it was about ⅓ full.  Most sites were decorated with prayer flags that usually had the image of a driver, their racing number and an image of a car.  Like the Tibetan prayer flags, these flags brought good fortune and offerings to the team pictured on them.  Almost all had an American flag, signs about their loyalty to god, country and their NASCAR religion.  As the week went on more parrishoners arrived with more and more flags.  Each site usually had a smoker, grill and coolers strategically placed around outdoor TVs.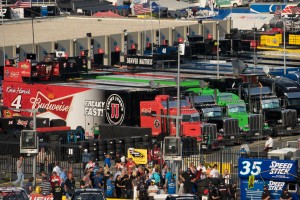 Thursday night in downtown Concord NC, there was a parade of about 80 haulers.  These are the semi trucks with special 53′ car haulers that are painted with images resembling the prayer flags hanging all over the city.
Friday was a qualifying session for the Saturday night event that saw 20 hopefuls try to compete for two open slots.  A third would be voted in using a special app and the others would qualify for starting position.  This 1.5 mile track saw cars traveling nearly 200 miles per hour.  To qualify, they had to make three laps at speed, conduct a four tire change pit stop and then charging off to get the best overall time.
Saturday was a late start for us because we knew that the race was not scheduled to start until 9:30p.  We had to stock up on BBQ so that we could have lunch at the campground.  The expected 100,000 people clogged the streets starting at noon.  Walking Jasper turned out to be a study in human behavior and the practices of this religion.  As we wound through the fields of parked trucks, tents and parties.  You could tell that the followers needed to prepare by building beer can effigies to their chosen deacons.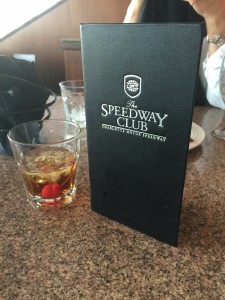 We headed over to the track to scope out our box and the Speedway Club before walking over to the track for the Little Big Town concert.  Our special tickets got us into a standing room open field right at the stage.  LBT came out and performed for over one hour before jumping on a plane to Las Vegas for the Billboard TV show the next evening.  So, no time to visit.
After the concert, we walked through the crowds and their pickup trucks that were their box seats on the hill facing the stage.  Rows of porto-potties somehow seemed to separate the concert from the race car festivities in the infield.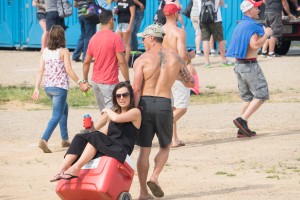 Walking by another stage, Kid Rock performed at a private Time Warner party.  Then into the pits, there were thousands of followers posing for pictures with their idols.  Celebrities ranged from rockstars to politicians.  Too many people for us, so we decided to go back to our skybox and have dinner at the Speedway Club restaurant.  It seemed civilized to sit in air-conditioned comfort in plush seats sipping a drink and eating as we watched the people outside the windows prepare for the evening events.
After dinner, we walked a few feet to our seats near the windows and at the start/finish line.  We watched as they setup the stage, introduced the drivers and began the evening with a prayer benediction led by Coach Joe Gibbs who owns one of the race teams.  After the national anthem was sung by a southern bell, we decided to bolt back to the coach to watch the race from the very best vantage point…our big screen 4k TV.  Yep, too many people that were way too different.  Turns out it was the smartest move because were were really able to see much more from the comfort of our own sofa.  Is there a message here?  You bet!  There is always a message.
Remember the story begins at the first click of the shutter and ends at the last click.  So, below is our story from our perspective.  Also is a video of LBT singing the Fleetwood Mac hit "The Chain."  So worth the time and money to see them and fit in a car race to boot.
Onward looking for more left turns.
Bob & Wendy
NASCAR All-Star Race Picture Story.
Little Big Town doing Fleetwood Mac