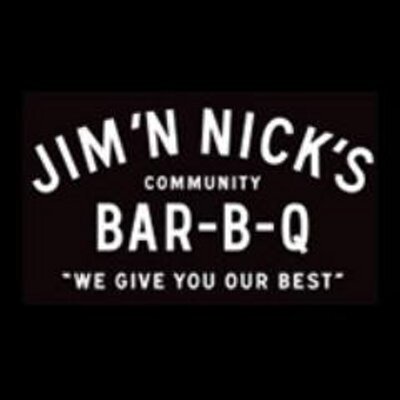 Jim & Nick's is by far one of the best BBQ places we have ever been to and that is saying a lot for Chill Travelers.
Our ranking is [usr 9.8]
We are in Concord at Charlotte Motor Speedway for the 2015 NASCAR All-Star Race.  We have always wanted to attend this race and the fact that our friends Little Big Town are performing pushed all the right buttons.  Our friends at the speedway found us camping and tickets, so we are all set.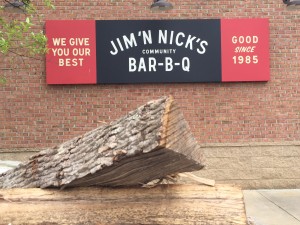 When we are in Charlotte, we have a few favorite BBQ places, but have never been in town long enough to try out Jim and Nick's.  Unfortunate for us because this time we tried it and in the proverbial sense, could not put our forks down the week prior to the events at the motor speedway.  We are just hoping that our skybox at the race will be catered by Jim and Nick's
So, lets get down to it.
To us, Jim and Nick's is a cross between the best smoked BBQ we have ever had and the ambiance of our favorite Santa Monica CA steakhouse.  When we arrive, the stacks of hickory wood was the first good sign.  When we walked into the front door, we were greeted by the smell of the smokers and the feel of "The Daily Grill" in SAMO.  We were greeted as if we had been there many times and asked to sit at the bar.
Derrick, the bartender, greeted us with a smile and a plate of each kind of their smoked meats.  The sample included Texas brisket, Carolina pulled pork, smoked turkey and smoked chicken.  Both of us ordered a MBC Copper draught beer and out came a basket of warm southern biscuits that resembled mini-muffins.  Even though it was not Faturday or a part of our Paleo diet, we snarfed them down fighting over the odd muffin that was left.
This was our first visit and the plan was to test the Carolina pulled pork sandwich, but Wendy was swayed to try the smoked turkey plate while I had the pork sandwich.  These came with sides as well as Derrick lets us sample some other sides which included a Mac'nCheese that was homestyle and absolutely incredible.  Everything was wonderful and frankly the best pulled pork BBQ I have ever had.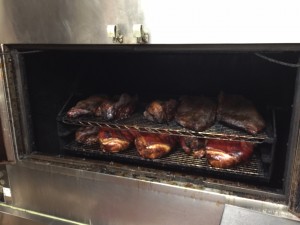 Derrick introduced us to Matt, the manager, and he gave us a tour of the smokers.  There are two rotating Ole Hickory smokers.  One at a lower temperature for the brisket and pork and the higher temperature for the chicken and turkey.  Both fired solely by the hickory wood, these are very high end restaurant grade smokers that I would like to put on a trailer and re-enter the BBQ cookoff circuit.  Matt was gracious and warm and took his time to explain the philosophy of the restaurant.  he proudly announced that there are no freezer at Jim an Nick's which simply means everything is fresh, homemade and carefully attended.  Pride would certainly be the keyword.
What is important to know is that we never announce we are reviewing a restaurant mainly because if it is not great, we never review.  Sort of like you learned as a kid that if you have nothing nice to say about a place, say nothing at all.
We left wanting more….but read on!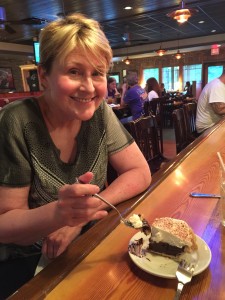 The above was on the Tuesday before the race on Friday and Saturday.  Wednesday our friends Tina and Dennis were scheduled to pass Charlotte on their way to a sports car race at Summit Point West Virginia.  We convinced them to stop and park at the speedway and we all went to Jim and Nick's for lunch.  Again, the greeting was warm and when Matt spotted us being seated, he came over, greeted us by first names and reached out to introduce himself to Tina and Dennis.  Our waitress Tasha was equally warm and friendly, brought us drinks and that basket o muffins.  Tina and Dennis are also Paleo, but once again there was a fight over that odd biscuit.
Dennis ordered the BBQ pork and Tina the smoked Turkey.  Wendy ordered the grilled chicken and I had a Cuban sandwich which had smoked ham and smoked pork.   All were wonderful.
We left wanting more…but read on!
So we wished Dennis and Tina a safe trip as they motored north in their motorcoach.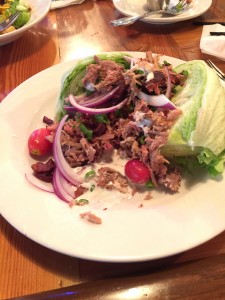 Now it is Thursday and we are scheduled to be in downtown Concord for a parrade of the hauler trucks used by the Sprint Cup teams and the Camping World Truck Series participants.  With all good intention, we decided to go back to Jim and Nick's for an early dinner.  Derrick was there again and we ordered drinks and an appetizer of their spare rib bits.  Then Wendy ordered a house salad which was very fresh and uniquely prepared with a honey mustard dressing that we still think has heroin in it because we immediately want more.  I ordered a wedge salad that had a waterfall of pulled pork and bacon topped with an outstanding blue cheese dressing.   Wonderful and you are getting the picture that we have totally blown our Paleo diet.
Just as a bit of a dig, we picture messaged Tina and Dennis each plate came out.
Worse, when we went to pay the bill, we realized that we had totally missed the parade and it was almost dark outside.  We got back to the Grizzly aka G2, walked Jasper pup up to the speedway and listened as the truck series guys practiced for the nighttime race on Friday.
We had left wanting more… but read on!
So now it is Friday and the races begin this evening.  You guessed it, we are heading back to Jim and Nick's for lunch and to pickup some bulk chicken, pulled pork and turkey for Faturday because it will be nearly impossible to fight the All-Star race traffic.  Luck favors the prepared mind, so we are ready for race day and for our departure on Sunday to motor north.
So all kidding aside, we have gone back to Jim and Nick's because of the accross-the-board great food.  Using our 75% criteria that the food drives our reviews, we returned to try different things and no surprise, they all were great.  So why no 10 out of 10….well maybe it is really a 10, but we have to leave some room for that elusive mega-restaurant that may or may not be out there.
Chill at Jim and Nick's Concord NC
Here is a link to Jim and Nicks Menu