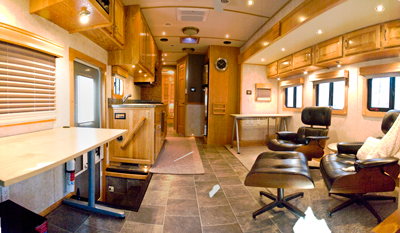 The old adage that the more things that change the more things that stay the same is no longer true for us.  Our new mantra is that we changed _________ what do we also have to change to embrace it.  Sometimes a relatively small change that is inexpensive can cause bigger and more expensive changes to occur.   Like redesigning the entire salon of our motor coach.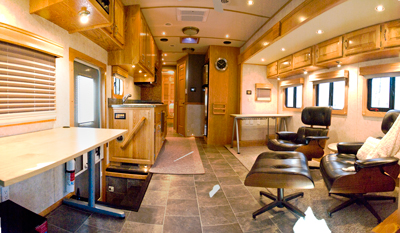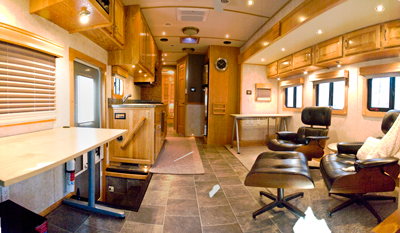 One of the benefits of having lived longer is that you get to see things go obsolete in your lifetime.  Whether is be a typewriter, a wired phone or a fax machine, it is interesting to watch as people try to adopt new technology and it is even more interesting to see how their routines do not change in the face of new technology.  Some things that are so ingrained take even longer to change or even notice the need for a change.
Living on our motor coach 100% of the time and only venturing back to our house only on occasion does give us a perspective of how much the two lifestyles contrast.  It always surprises us how forward thinking we are and yet how set in our ways we are.  Often, we notice that it is society that sets are ways based on what is available to us.  The desk you sit at, the chairs, the leisure items are all now potentially driven by technology.  This is so very apparent when you drive through a neighborhood and see storage pods sitting in driveways or the billboard from the storage locker company saying we have a place for all your things.  Knowing well that the ad really say, "we will store the things you don't need because you don't want to throw them away you pack rats!"
We have a new stand-up routine.  No joke, it is not funny.
Every year this time it seems like we change out many things, processes and methods.  Maybe you think it has something to do with new year's resolutions, but not for us.  It seems to be more related to technology changes.  Our big changes this year seem to filter back to our two iPad purchases this past year.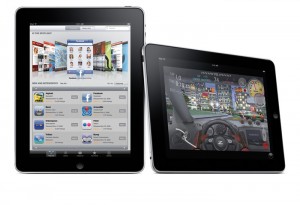 We bought our iPad's for business reason mainly around Twitter, Facebook and some other forms of social media.  The funny thing is that when you get an iPad, you start to check out all the "apps" wondering if you can accomplish this, that or another thing. It is a sort of game now for us like finding a way to replace our navigation, doppler radar and weather systems for our obsolete netbook computer or figure out a way to log our travel expenses or even document a few turn-outs on roads where we can stop for lunch.  The list goes on an on of what these apps can do and will do to simplify your life, get rid of paper and streamline things that you do.  Amazing is an understatement.
It Has To Do More Than One Thing!
Our simple rule for the motor coach is that anything that comes on board must be able to do at least two things and hopefully more.  A fine chef's knife wins over a food processor and a roll-around computer cart has to double as a dinner table, snack table or movable outside drink table.  It is a good rule even if you do  not live in a smaller space.
Our iPad's quickly changed our reading habits.  No paper allowed and buy as many online magazines as you want.  Those high resolution screen make the magazine art even clearer and you can have hundreds, if not thousands, of magazines in a paper size device that also doubles as a great internet viewer, quick emailer and controller.  Yes, controller!  See, those iPad apps can connect via other devices to turn on your TV, control the Direct TV DVR and raise the volume of your favorite music or TV show over the coaches surround sound system.  Our Griffen/Dijit combo has replaced all the contollers in one app on the iPad.  All pretty neat, but unfortunately or fortunately, those two iPad's cost us a lot of money in lifestyle changes.
When we built our motor coach, we fortunately designed the main salon in an open non-built-in way.  This is 180 degrees from normal.  I would like to say it was with forethought, but in fact, we wanted to build out the main area for our desks and let the rest of the area evolve.  Now, i must say there are few things that I miss from the house.  Probably the two things are our built-in therapeutic water spa on the rear deck and our big lounging sofa which is great for watching TV while cuddling.  When we built the coach, the desks and work took precedence over a sofa.  Having our original Eames chairs in the main salon was a bit of conciliation, but not 100%.
Back to the iPads and our stand-up routine.  We have been reading a lot about how people are sitting too much and it is leading to all sorts of disorders.  We try to walk about 5 miles a day and when we can, swim 1500 meters.  Still, we found that we were sitting most of the day to a point where when we would stand, it was like we had been sitting in an airplane seat for 6 hours.  In fact, most days we sit at least 8 hours and with only a few stand-up breaks.  Not good.  So, how do the iPads play in?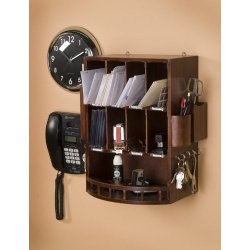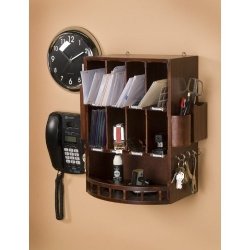 These little tablets changed our reading and work behavior so much that we thought that maybe we could replace our desks with small stand-up workstations and maybe even get a sofa.  We thought and though while researching design, furniture and spacial design.  As we used those iPad's to visit stores online and in person we began to see an emerging new group of designers and products focused on small spaces and new age storage.  Not wall units next to the phone in the kitchen with slots for mail, paper, staplers and scotch tape, but sleek designs that focused on paperless technology for compact living.  What became clear was that we had changed out our communication technology, but our furnishings were still in the 1960's from a concept perspective.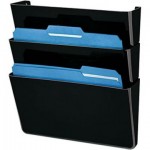 Our first idea was to see if we could find a mobile desk that adjusted up and down.  It could work as a multi-use table if we found a way to wall mount storage for our laptops, iPads and smartphones.  Ironically it was old technology that served us to store that technology using old stlye file folder wall holders.  Instead of files and paper folders, they hold our equipment.  Then came the rolling compact worktable.  There we turned to some old friends in San Diego that helped us outfit our boat.  The Norwegian furniture store had everything we wanted and more…including a real-life sofa that is quite unique.
The idea was and is that we will work standing up.  In fact, this blog article was written entirely while standing at my workstation.  I could have used the laptop or bluetooth linked the keyboard to the iPad, but I wanted to see what it would be like to write an entire article.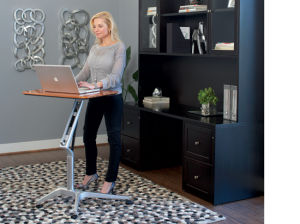 What we did was to take out our old 4 foot by 2 foot desks and replace them with a 30" workstation desk for my big workstation imaging computer and buy the roll around worktable for Wendy.  Then we measured and measured to see if the sofa would make it through the doorway.  It looks like it will fit and we will know for sure when it is delivered.  Getting rid of the desks also gets rid of the two Aeron desk chairs and our two Eames chairs.  These are schedule for departure back to the house later this week.
With these changes, we were able to add a Norwegian recliner chair and ottoman which are small, light and very comfortable.  The sofa is also unique in that there are two recliner segments that have a lifting foot rest and hug the wall to a full recline for reading, watching TV or easy music listening with a probable nap in the process.
The big messege here is the change in perspective, attitude and design that will accompany all technology in the future.  Instead of doing things the same old way, we are now designing the coach around human and communication technology taking advantage of new design concepts based around materials technology and space considerations.
Very Cool!
Hopefully in a week or two we can give you a virtual tour of the New Grizzly.