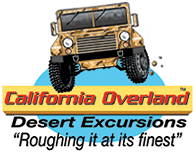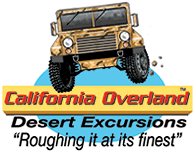 Our time in Borrego Spring was a wonderful experience.  We had the opportunity to meet some wonderful warm people.  We always love to explore the areas we visit and this one particular area is new to Wendy.  Bob used to off road race in the Ocotillo Wells area many years ago and returning was a great experience for for him.
The off-road activity in this area has been significantly restricted because of the ecology impact.  So realizing that we wanted to see most of what was restricted almost everyone in this small desert town said, call Joe!  So we did and arranged for a private Jeep tour prior to the  Christmas holiday.  Unfortunately as the video below shows, our weather turned rainy and Joe was headed back east for the holiday.  So, we delayed our tour until the January warmth and sunshine.
The tour was significant and way too hard to describe in words.  Below is a short video of our experience.
[flashvideo file=http://www.chilltravelers.com/video/overland.f4v /]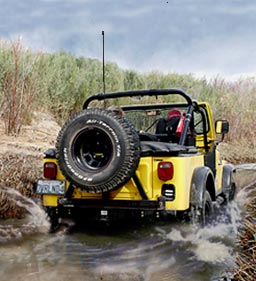 Borrego is a great place to visit and a quick trip from LA or San Diego.  It is a great place to visit to spend time in the desert to see the wonder it has to offer.  Joe and his California Overland Tours are a must see and do.  Joe is very knowledgeable about the history, nature and knows all the wonderful things to see and do.  Whether it is a group tour or a private Jeep excursion like ours, it was well worth the time as our video shows.  The bonus, Joe is a wonderful person and is definitely a new part of the Chill Travelers family.
California Overland takes you deep amongst the cactus and canyons of the incredible Anza-Borrego desert in open-air jeeps and former military vehicles. Get ready for rugged adventure in an amazing terrain rich in beauty, history and natural wonder that's a less than 90-mile scenic drive from downtown San Diego.
See what it's like to strip away the confines of a typical car or SUV and experience the desert with all your senses aboard the most exciting California desert tours. And our unique rating system lets you choose your own level of adventure. So check us out and you may find this is the journey you've always wanted to take.
Anza-Borrego Desert State Park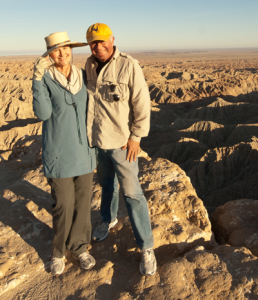 At over 600,000 acres Anza-Borrego Desert State Park® is the largest desert state park in the nation. It is also one of the most diverse; 6,000' peaks, labyrinthine badlands, palm oases, cascading pools of water in lush canyons, and awe-inspiring overlooks. Its boundaries contain areas rich in western lore, native-american history, paleontology, archaeology and geology. There's over 200 flowering plants that occasionally put on incredible displays of seasonal colors. Wildlife abounds as well with roadrunners, jack rabbits, lizards such as the chuckwalla, kit foxes, bobcats, cougars, coyotes and, of course, the Peninsular Bighorn Sheep.
It is the Bighorn Sheep that gives Anza-Borrego half of its name. "Borrego" is Spanish for this endangered mammal that is often seen by visitors on the rocky slopes of the park's canyons. "Anza" refers to the Spanish explorer who first traversed Coyote Canyon in 1774 in a successful quest for an overland route to the mission at San Francisco.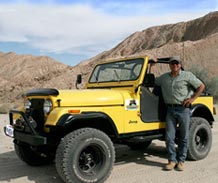 Spring wildflower season brings the most visitors, but the park's magnificent features are truly impressive any time of year. Autumn is near perfect in weather; comfortable temps and usually rain-free skies. And summer in the desert is an experience that an avid outdoor adventurer may want to experience for themselves. Time of day, place and activity can be adapted to suit even the hottest days where the mercury can push into the 120s °F. Usually the presence of low humidity makes even a 120° day seem more comfortable than a 98° day in more temperate climates. Summer nights are generally pleasant. Safety though should always be emphasized, especially during summer months when water intake is critical
So, when you are in Borrego, make sure that you contact Joe at California Overland Tours at 760.767.1232 or visit him at   You can also email: info@californiaoverland.com
[mappress mapid="24″]