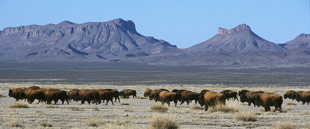 Well, it is snowing in Rapid City on May 12, 2010
We are heading to Canada for business.  History and our plans should find 60's to 70's.  We left Topeka being chased by Tornado's and headed north and west through constant rain.  When we arrived in Rapid City, our hope was to take off a day to go to Mt Rushmore.  With the weather ceiling obscuring the faces, we headed to downtown Rapid City for a walk-about and coffee.
Later we got some work done on the Saturn and planned for a dinner at The Corn Exchange which is a French Bistro on Main Street in Rapid City. Wonderful food although a bit pricey, it was worth every penny. A two thumbs up from Wendy and me. Not what you would have expected in this quaint western town and a pleasant surprize. When in Rapid City, it is our top pick…   The Corn Exchange Website BTW, avoid the Firehouse Brewery.
Then we awoke today to the Weather Channel claiming that we were inundated with snow. We figured it was typical Weather Channel sensationalism and when we pulled back the curtains on the Grizzly….well have a look!
[flashvideo file=http://www.keys-soap.com/videos/2sdsnow.flv /]
The Corn Exchange
[mappress]