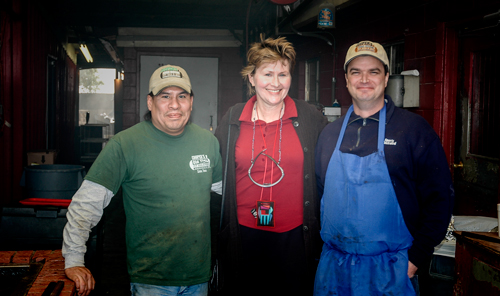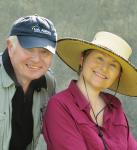 As we travel around the country visiting our dealers and customers, we happen upon some really fine cooking.  As Paleo types, this usually restricts us to more conventional restaurants.  Sometimes, we will go out of our way to chase a particular food looking for the best America has to offer.  We have chased down the best fried chicken, crawfish etouffee, boudin balls and, of course, BBQ. It seems that time a year when we just have to have BBQ.  So, we were driving and the debate began between us what the best BBQ places are in America.   So, it is time to try them again starting with the best and heading south from there. Are top five list took us a while, but that is a nice thing to pass the time as we drive the rig across country.  Based on our discussion, the top 5 BBQ restaurants in America are:
Cooper's BBQ in Llano Texas   – Chill Travelers Rank [usr 8.7]
Pig Feathers in Toledo, Oregon   – Chill Travelers Rank [usr 8.3]
Kreuz Market, Lockhart Texas   – Chill Travelers Rank [usr 8.2]
Lexington BBQ,  Lexington, North Carolina   – Chill Travelers Rank [usr 8.1]
Blind Tiger, Topeka Kansas   – Chill Travelers Rank [usr 8.1]
So, it is on to Llano to check in with Terry and the gang before heading to Austin.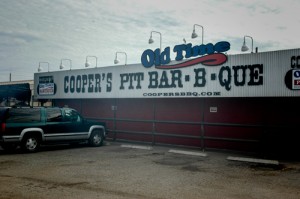 The road to Llano Texas is a long haul.  We have been know to drive 100 miles for the best fried chicken or Boudin balls in Louisiana.  The road to Llano has us holing-up in Kerrville over 75 miles south of Llano.  An early run north through Fredericksburg, Tx should put us in Llano near lunch time to stand in line with all sorts of people from all walks of life and with virtually every license plate in the country. Terry Cooper is an old friend.  We met him a few years back when we were introduced to his place by "W."  By far this was the easiest to choose as our top BBQ place in the country, Terry's is an old family restaurant with old family recipes.  It is out of the way and worth the drive.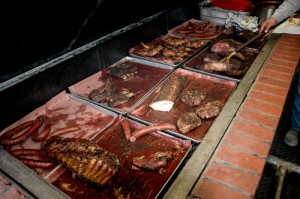 We choose the Llano location because it is the original and the place with the nicest people.  Terry has four restaurants now in New Braunfels, Austin and Fort Worth.  You can take a look at the website here.  http://www.coopersbbq.com/ The BBQ brisket is superb as are the sausages and chicken.  They serve a 3″ thick smoked pork chop that is incredible.  You line up at the pit and the pit master put what you want on a tray to carry inside to weight it and get any extras that you want.  We usually fill up a tray and wrap the rest for later. So it is on to Llano, Lockhart, Topeka and Lexington.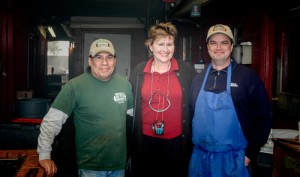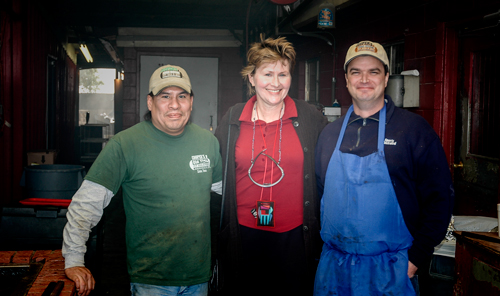 Cooper's Old Time BBQ
604 W. Young Street
Llano, TX 78643
http://coopersbbqllano.com/