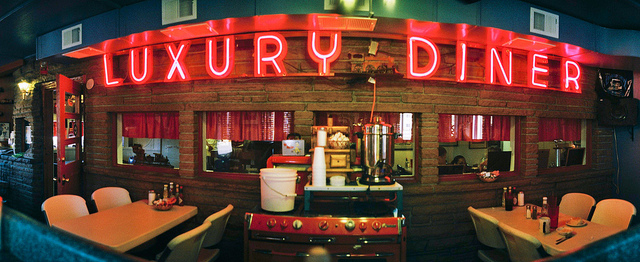 Luxury Diner Reopens in Cheyenne Wyoming
Chill Travelers Rating: [usr 8.5]
Chill Travelers were distressed when we returned to Cheyenne to find that the Luxury Diner was closed.  The sign said closed until further notice and Google posted, "Closed Permanently."   We soon realized that a former customer has become the new owner and reopened June 1, 2015.  Wheeww, that was a close one.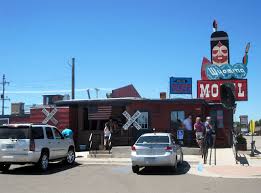 We have been going to the Luxury Diner for years.  It is a repurposed old rail trolley car that has evolved over the years.  Off of Lincoln Way west of Cheyenne town center it stands at the foot of the mid-century Wyoming Motel classic neon sign.  This is a heartland cowboy railroader original masterpiece of Americana.
Worth a visit for just a look, this is a place to get real home cooking with a Cheyenne twist.  Add the people watching aspect and you have a place or real good eats that is both entertaining and authentic.
The menu from the new owners is almost identical with the addition of eastern cheesesteak sandwiches.  There are probably ten different cheesesteaks available as well as the old standards.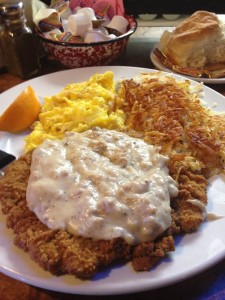 For Chill Travelers, this has always been a breakfast place.  Simple pancakes with German sausage to a chile cheese burrito New Mexico style are just some of the simple foods they serve.  The chicken fried steak is naughty and the biscuits & gravy are true southern style.  Yes, Santa Fe is just down the I-25, but what is important to point out is that each ethnic or regional dish is authentic to its origin.  Old standards specials carryon the railroad tradition with names like "the Conductor", "Caboose" etc.  The food is well prepared and the staff very attentive.  The decor is authentic railroad memorabilia with many regulars sitting at the tables and counters.
We are jumping on the bandwagon here quickly because talking to the new owner, she told us that she inherited nothing from the old owner and has to rebuild from scratch.  Good job so far and hopefully this will be the beginning of a entire new era for Luxury Diner and friends.
It is inexpensive good food with a slice of Americana worth visiting and enjoying their good eats.
Chill at Luxury Diner in Cheyenne.
Zamato acquired Urbanspoon