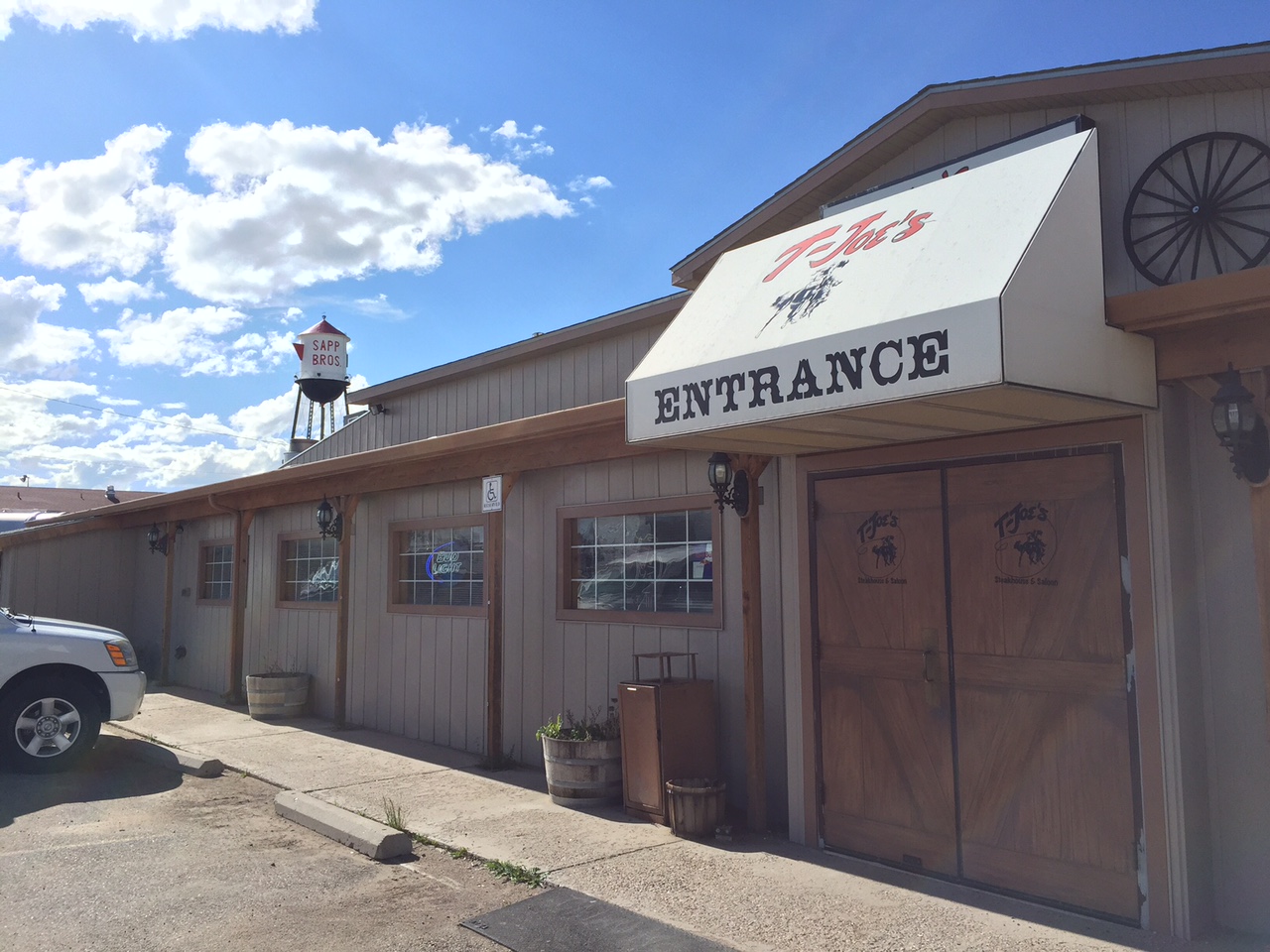 For Chill Travelers, T-Joes is like an addiction to a bad habit!
Chill Travelers Rating: [usr 7.5]
When you pull into any town, there are some crusty places that have a reputation for something good.  When you walk in though, you wonder why until you try something that a local recommends.
When you pull into the parking lot, you notice T-Joe's nestled between a pretty crude trailer campground and the Sapp Brothers Truck Stop.  It is a dirt lot with holes that resemble bomb craters.  You quickly notice that T-Joes seems well kept in the midst of a rugged environment.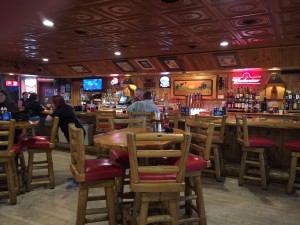 T-Joes is a place where you expect to see cowboys and roughneck drillers.  You do, but you see bank VP's, politicians and Chill Travelers.  It is one of the few places we have visited where we saw almost exclusively pickups and big rigs parked in front indicating a strong following.
Reading the reviews on Urbanspoon would have normally put us off, but when we asked our private banker a few years back the best places she would recommend to eat, T-Joe's was up there on her list.
Our first time, we started in the bar area.  This is our normal place to dine to learn about the area and the best dishes to select.  For us, it was initially a put-off because T-Joe's allows smoking.  So, if you are totally unable to tolerate smoking in a restaurant, pass on T-Joe's.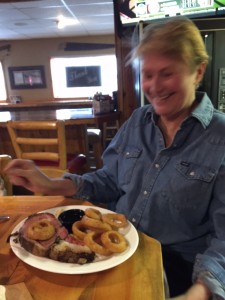 So, we return and return for the Prime Rib.  It is a huge cut and semi-pricey.   The beef is local and there is some affiliation of T-Joes to a local meat provider on the same property just on the other side of the Sapp Brothers Truck Stop.  Constantly, the steaks and burgers are good.  Sides including the salads are constantly good, but have been varied in size or quantity.  One day a large side salad and the next a little smaller.  Noticeable, but not off putting.
The ambiance is really a nuevo western saloon.  Heavy wood chairs, big tables, cowboys, spurs and lots of smoking.  Country music on the box while CNN and ESPN pay on TVs.  The people are generally warm and friendly.  The staff does seem aloof though.  Seems like you have to warm them up each time.  Said, once we warm them up, the experience is good.
The bar has a pretty good cross-section of draught beers and a deep selection of bottled beers.  Wendy is a fan of New Belgium's 1554 dark.  They have it!
So normally, our ranking would be higher except for the smoking.  People complain about higher prices as well, but they seem in line with places across the country.
Last point.  Over the years when we visit Cheyenne, we always go back to T-Joe's.