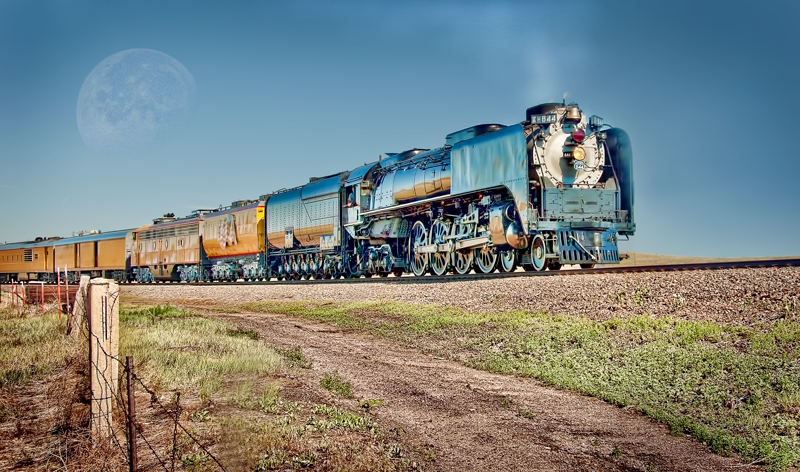 We have been in Cheyenne, Wyoming establishing our new corporate entity here.   While we were visiting our bankers and the economic development people, we heard that the UP steam shop was based here.  A little further investigation and enlisting the help of Wendy's dad, a railroad veteran and expert, we found out that the UP 844 steam train would run east beginning  June 8, 2012.
It was an early start, but only a few hundred yards from where we are staying.  An open field next to a new power substation, there is an open pasture that still supports a few horses.  We arrived at about 8am thinking that the train would arrive somewhere around 8:30a.  A delayed start had the plum of smoke appearing at about 8:44 am.  Not only was this an interesting coincidence based on the trains number, 844, but it was also the original number of our custom motor coach.  Yes, our friends at Showhauler always refer to us by our birth number…844
The event finds Bob on stills and Wendy on video.   The image below is Bob's HDR image of the experience and the video is 100% Wendy.  The scene of the steam is amazing and Wendy captures the mournful sound of a forgotten steam whistle played like a find musical instrument by the 844 engineer.
This is a moment in history.  Bygones of a tranquil time where time once stood still.
The HDR image below is Bob's contribution.
L
This is the video Wendy shot offering imagery, sound and a very warm feeling about the experience.  Again, if a picture is worth 1,000 words, then a video must be worth a million words!
[jwplayer config="16-9 720″ mediaid="2184″]