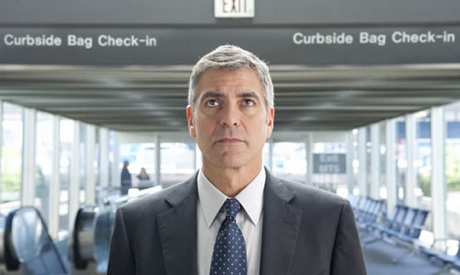 Up in the Air…Movie Review
For all of our friends that emailed, called and contacted us wondering if the new George Clooney movie "Up in the Air." was written by or about our lives prior to meeting, it was not.   All of the calls, story line and what we have drove us to see the movie.
Today is December 31, 2009.  Tomorrow is our wedding anniversary.  It was 15 years ago that we met in Santa Fe New Mexico and 13 years ago tomorrow that we were married in Taos, New Mexico.  This 2010 eve, we are in Las Cruces (The Crossroads) New Mexico.
Our friends Tina and Dennis have been in Las Cruces with us for the last two weeks.  They headed home to Southern Cal this morning and we thought that the theaters would be pretty quiet today.  We bid them farewell and jumped into the car and headed to the local theater.  We were first in the theater and the other ten or so that showed up left the theater quiet and a good atmosphere for us to watch the movie.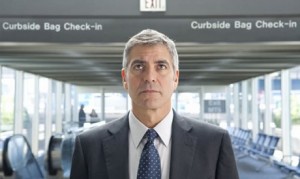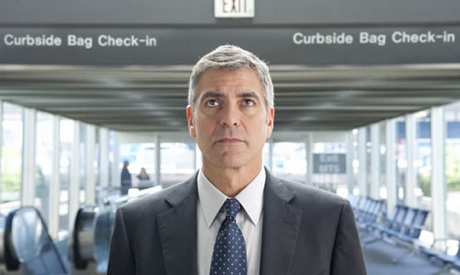 Opening scenes were all too familiar with shots of the ground and cities below from 35,000 feet.  The airport scene immediately transported us back nearly 20 years to a time before we had met.  Loners and moving fast was our lives with Bob in excess of 250,000 miles a year and Wendy bringing up a close second.  Wendy being in HR and Bob as a turn-around specialist made Clooney's working scenes as a firing outplacement specialist very real.
The one thing about this movie that struck both of us was that the director, Jason Reitman, totally captured the lack of glamour that was associated with this lifestyle.  Both of us experienced friends and family thinking that we both had glamorous lifestyle jetting around the world.  The movie captured this general misconception.  More so, the movie very accurately portrayed the lack, of a life, that frequent travelers have.  Equally, Clooney's character, was not the head of a company, but the hired gun that fired people for gutless CEO's and then offering the outplacement programs that were so prolific in the 90's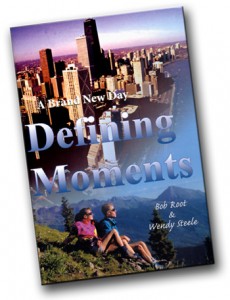 For those that have read our book, Defining Moments, the closing scenes of "Up in the Air" are the beginning scene of our life together.  Truth, much of our lives mirrored the movie in more ways than are imaginable.  The differences are not too far off except in our movie the guy gets the girl.  That scene of Clooney looking at the departure board was an immediate flashback to the opening of our book.
For those of you that have not read the book and have seen the movie, here is our forward.   The fact that remains is that no one, absolutely no one, knows the lives we lead "Up in the Air."  Since most of what the movie is about our similar lives and ended up on the editors floor, seeing this movie made us both believe that it was written about us.  It was not, but for us the movie was way to coincidental.  With few exceptions, "Up in the Air" is a story of our lives before finding each other.  If you found the movie sad, cold and about two very mechanical people, it was very clearly our lives prior to meeting each other.  So read the first words of our book, Defining Moments!
---
Clip of Authors' Forward for Defining Moments
Life is entirely too short to live someone else's belief of how you should live. Discovering and living your life's purpose is the foundation of happiness. Searching for, discovering and learning from defining moments in your life is the process. Finding your life's partner redefines your own purpose. The  journey,  the reward.
……..
Have you ever stepped onto an airplane and had a sudden feeling that your life was about to change forever?  That is exactly what happened to us.
After literally millions of business air miles we had a lot of experiences. None was ever close to the one we were going to have. It was an experience that ran the gamut from a spiritual connection, to fear, passion and ended in love and adventure.
Most of us have had the experience of standing in an airport gazing at the departure information. Suddenly our eyes catch a flight to an exotic place. For a fleeting moment we wonder what it would be like to jump on board that plane. The idea of chucking it all flashes in our brains. We fantasize about never returning to our job, leaving our past behind with hopes of experiencing a new adventure…maybe even finding a new romantic and spiritual love. We dream about starting a new life that is simpler and happier.
For us, it started as just another business trip. It was just a planned team building exercise for each of our respective companies in the Sangre de Cristo Mountains outside of Santa Fe. We each had a strange feeling as we settled into our seats on flights bound for Albuquerque, Wendy from Florida and Bob from Silicon Valley that our lives would never be the same. Ultimately, the results were the same as one of those great escape fantasies. We each chucked our executive careers, we found a new love in each other and we shed our stock options and high six figure incomes for a simpler life……
---
You will just have to read the rest of the book!
We did not meet the same way, but very very close.  The instant attraction as portrayed in the movie was very accurate and captured us for the rest of the movie.   Could it actually be about us?
What was especially real for both of us were the airport, rental car and hotel scenes.  Clooney moving through the airport in an almost choreographed dance compared to the crazed average traveler was so incredibly accurately played that we were both taken back nearly 20 years instantly.  We each carried all those frequent flyer, hotel and car rental cards that the Clooney character and his love interest Alex exhibited in a bar scene.  Meeting in airports around the country was also us.  Comparing schedules to meet somewhere…Us!  ….and those employee greetings at the Admiral Club, counters etc were true for us.  The movie is uncanny and a bit emotionally draining.
Wendy even recounts that many hotel and airline people knew her so well that they actually looked out for her, making sure she was safe and comfortable.  Bob recounts achieving the highest Diamond level at the Hyatt hotels and having to ask them to stop bothering him with uber-concierge services…"I just want to sleep," he remembers asking them!
As we say, it all turned out good.  We met despite ourselves and now we are together working on the next book, SeeLevel.  Beginning as this website, there is no knowing if and when it will be published
Well as a review, Clooney should probably get the Oscar.   We are just not sure that the non-traveler will relate enough unless they are carrying one of those top frequent flyer cards.  All said, the reviews are great with a broader more general appeal than we would have expected.  Maybe more people do relate to these travelers or maybe it is just all those people he has to fire?
So, this movie is about us even though it was not written about us.  Bob is a lifetime Exec Platinum because of those 3 million miles.  Wendy's cards are long since gone.  Before they looked down from their seats at 35,000 feet and wondered what it would be like to operate at SeeLevel.  Now we look up at the contrails of jets crisscrossing the sky and remember what it was like in that aluminum tube shuttling from one coast to the other.  What a difference then and now.