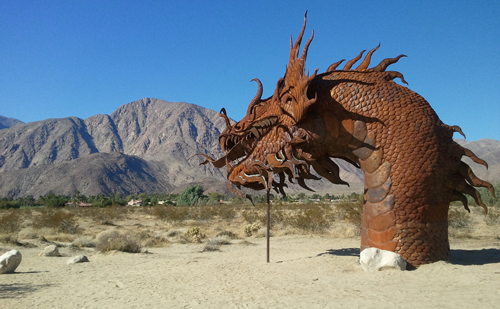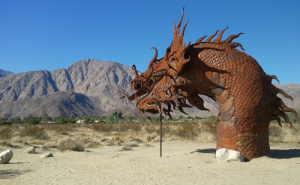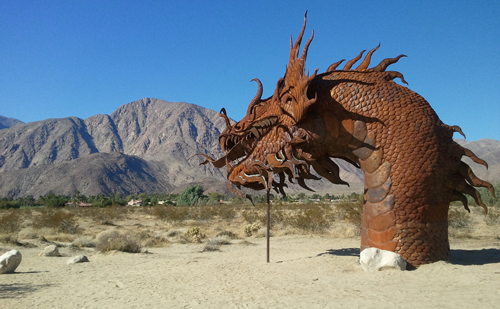 Scratch the surface a bit in Borrego Springs and you are likely to find a Nobel Prize winner, a former James Bond actor learning to paint landscapes, the sculpture of a serpent on the Avery (label company) ranch, a former New York advertising agency executive now doing off-road desert adventures and at least five or six authors.  Borrego Springs is often called California's Hidden Desert because it is literally circled by the Anza-Borrego Desert State Park.   It is also called the Hidden Desert because there is so much hidden here.  Most of which are very talented artists, musicians, authors, scientist, actors and us.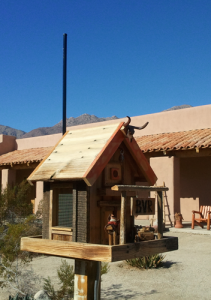 We will be writing either a series of articles while in Borrego Spring or one very big article.  It is so interesting here that we might even try to sell the article.  Who knows.
One of the articles will be about Borrego Valley Inn.  This is an adobe constructed series of building that reminded us of Santa Fe or Taos.  You can take a quick look at their site at www.borregovalleyinn.com
Walking through the courtyard, there is an structure that houses a very happy flock of  Australian Zebra finches.  Their sound is captivating and when we turned around there was this wonderful bird house…or was it?  No, it is their internet access point.   The geeks that installed their new high speed internet told them it had to be in the center of the courtyard.  Thinks, the owners decided to commission a bird house from a local artist.   The detail is amazing.  Even more amazing is that it hides the electronics for their internet access point.
Film at 11!
Bob & Wendy