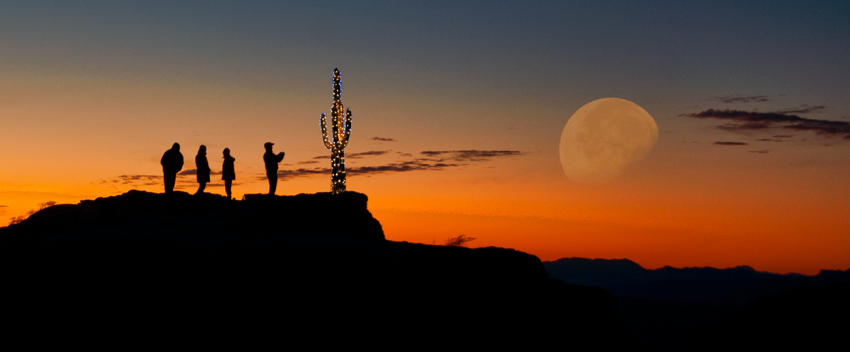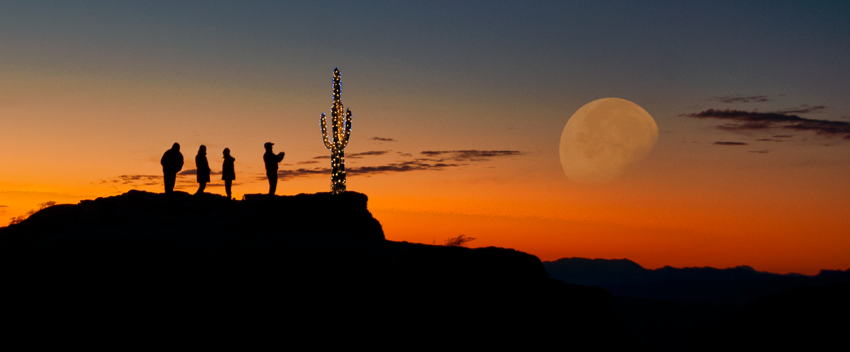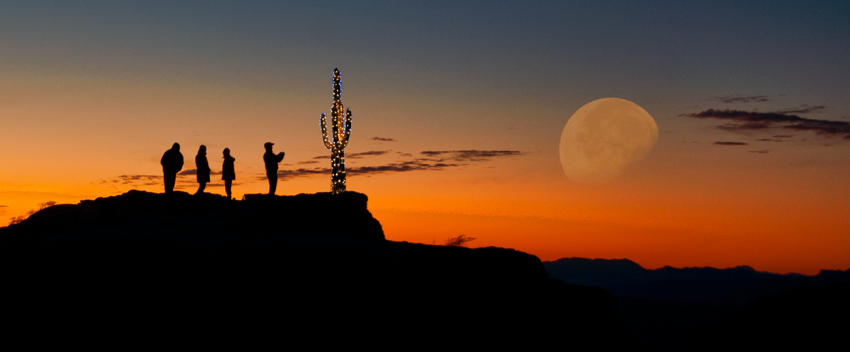 Borrego Christmas by Chill Travelers
Wandering is our lifestyle.
Wondering gives us perspective of what could be.
Happiness to us is simply looking forward to something.
So, it is Christmas day, edging 70 degrees and sunny in California's Anza Borrego Desert.  We are not much for the commercial aspects of the holiday.  In fact, we mostly enjoy the peace and quiet that the day brings.  There is not much in Borrego Springs to begin with and what normally is open here is not today.
2011 was interesting!    We do not claim to have the answers and our perspective is time zero looking forward.   Rarely do we gauge our progress by looking backwards.  So looking forward, 2012 will be a very interesting year for us.
Simple goals of building a new pet products line named Back Country Medicine in a new factory in Cheyenne Wyoming (maybe) under a new company recently incorporated in Wyoming called Applied Alchemy is good for starters.  A second book titled SK!N is in the works for Keys as is a novel by Bob should take care of the writing urges.  Our plan to produce our first album by Chill Travelers…and friends is based on musical arrangements from our KORG M3 that also fuels the sound tracks to the videos we create.  This coming year is also a big push expanding our arts.  Anything but boring.
A good health goal for both of us is to swim a mile a day that requires that we be near a pool.  So in 2012 we add finding pools to our goal to "chase 70 degrees" year round.  So the 2012 tagline for us is, "Chasing 70 degrees  from pool to pool."
We will continue to wander.  It is because our nature is to be wanderers.  It is not because we are contrarians.  We thrive on wandering.  Anything but aimless we are nomadic by design.  Nomadic  by heart.  Our friend Ben refers to himself as  "Digital Nomad" traveling and shooting incredible pictures from his mind's eye altering reality to his own perspective of people, places and things.  A site worth seeing.  http://www.thebestofben.com/
When we grow up, we want to be Ben.  Seems like the trick is to never grow up.  Therefore, 2012 is also about marveling in a childlike way all that we see, hear and feel as we wander.  We are also digital nomads because we are always on the move, always searching and looking forward to the next turn, the next mountain and the next smiling face of old or new friend.  This digital world enables us to run our businesses, work our hobbies, passions and avocations…and to wander.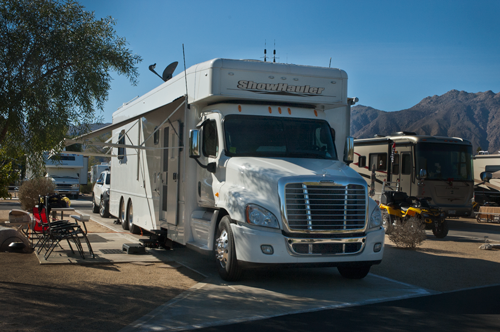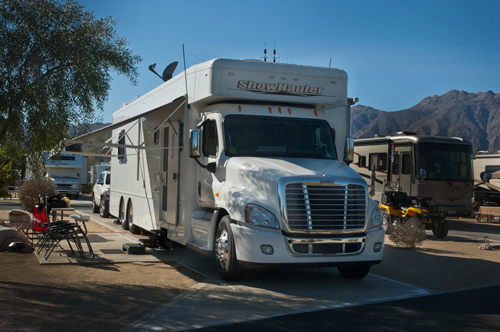 The Grizzly is greener than it used to be with some interesting technology adds.  Along the way, we learned about ways to connect to the internet, go off grid and reduce our carbon footprint.  Sounds funny, but by just replacing all the hot halogen lights with LEDs reduced the cabin temperature and power consumption in half.  What a wonderful beast the Grizzly is and a credit to the innovation by our friends at ShowHauler.  It makes being referred to as the "Big Ice Cream Truck" or "Snow Hauler" by those retired RVers more tolerable.
Another thing that we have subscribed to is to perfect our forward-looking proactive work style.  It is amazing what you can accomplish when you do only those things that have a positive intention and jettison negativity, baggage, the past and dragging shit along with you.   Following our intuition is our voiceless messenger and making left turns when the urge to turn right is the easiest.  Directionally, three lefts make a right and you get to see a lot more along the way.  Maybe meeting some new friends on the way.
2012 will find us keep on keepin on spooling up our activities while also experiencing new things, people and places.
Wendy snagged the following quote from a book that she read on her Kindle.  Sounds a little like a prayer, but to us it is our mantra for 2012.
 "No matter where I (we) go in the world, in any direction, may I (we) greet people with happiness, peace and friendliness"….at SeeLevel!
 Wendy and Bob
 Wandering, Wondering and Happy Alchemists