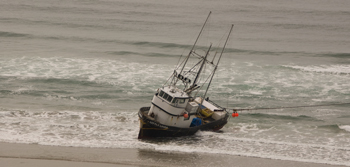 There are few places in the US that you can chase 70 degrees during the summer months.  The far southwest coast of Oregon is one of them.  It is our choice for the summer months because it is cool, mostly cloudy and provides us a central location in the Northwest.

The picture above is  a panorama from the beach just below where we are staying at the Pacific Shores RV Resort.  This is the lighthouse just north of Newport and south or our location.

Here is another shot from the same location looking at the ocean.  These are panoramas in an attempt to show the breadth of the beaches in this area.  Lots of rocks and miles and lies of walking beach at low tide.  We take a break from work to walk about four miles on the beach each day chasing the low tide.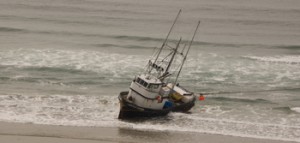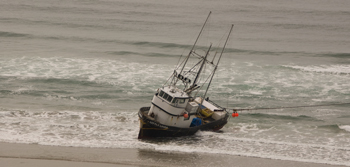 There is always something going on here.  Last year, we walked onto Nye Beach to see this image of a large fishing boat aground.  We wrote about it is our blog last year titaled Big Boys Beach Toys.  You can read about it by Clicking Here.
Well, we went for our walk the last day of July.   We looked down the beach.  Strange, we thought we saw a boat.  It was a foggy morning and the sun was obscured.  As we got closer and closer, it looked like a sailboat aground.  Sure enough, as we got close enough it was a 50 foot or so sloop.  As we got closer, it was intact and obviously home built.  Very old, the mast are wood with fiberglass over wood construction.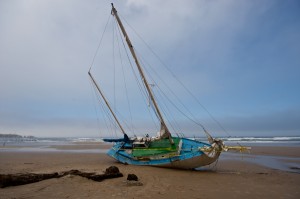 Obviously these sorts of beaching are not good for the coast or the boat.  Interestingly as we got closer, we spotted an Oregon Beach Ranger truck and outside of it was the ranger protecting the boat for the family.  To our surprise, it was an old friend from from last years beaching.  Don Woody or "Woody" for short was happy to see us and shared some of the story.
Turns out that the boat was owned by a gentleman about 77 years old.  He had called into the Coast Guard that he was taking on water.  When they asked if he needed help, he said no!  Surprising for someone that was obviously in trouble.  The next morning, they found him on the beach suffering from hypothermia.  He was taken to the hospital and his family in Salt Lake notified.  Appearently he is almost deaf and seemed to be tiring of life.  His family was actually happy because now they could take him home.  The fate of the boat is not good.  We will report in as we find more out.

So this is the parting shot of the old sailboat aground on the Oregon Coast.  As we left, Woody yelled!  See ya at the next ship wreck!
[mappress]