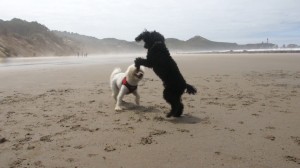 When I was creating the video of Jasper and the Beach Soccer, within the editing process, I noticed some interesting things during the  frame-by-frame transitions.  It is funny and interesting to view a video in slow motion and often it inspires.
Jasper has a new neighbor friend here in Newport, named Satchmo.  He is from Sedona , Arizona.  They became friends on the beach in Newport Oregon.  We can only assume that Satchy was named after the great American trumpet player.
Louis Armstrong  nicknamed Satchmo , was an American jazz trumpeter and singer from New Orleans,Louisiana.
Coming to prominence in the 1920s as an "inventive" cornet and trumpet player, Armstrong was a foundational influence in jazz, shifting the music's focus from collective improvisation to solo performance.
With his instantly recognizable deep and distinctive gravelly voice, Armstrong was also an influential singer, demonstrating great dexterity as an improviser, bending the lyrics and melody of a song for expressive purposes. He was also greatly skilled at scat singing, vocalizing using sounds and syllables instead of actual lyrics.
Renowned for his charismatic stage presence and voice almost as much as for his trumpet-playing, Armstrong's influence extends well beyond jazz music, and by the end of his career in the 1960s, he was widely regarded as a profound influence on popular music in general.
So, when I was editing, I noticed a sort of dance that the two had.  It was honestly inspiring.
I decided that I would take parts of the video and put them in slow motion to capture the dance and the style these two had.  Magic Moments is a phrase that comes to mind.
Here is what I saw in the editing process, shortened to an interesting segment that seems to be a life story of sorts!
If you have not watched the video below, I would recommend looking at it first to put this 'short' in perspective.


[jwplayer config="16-9 720″ mediaid="1924″]