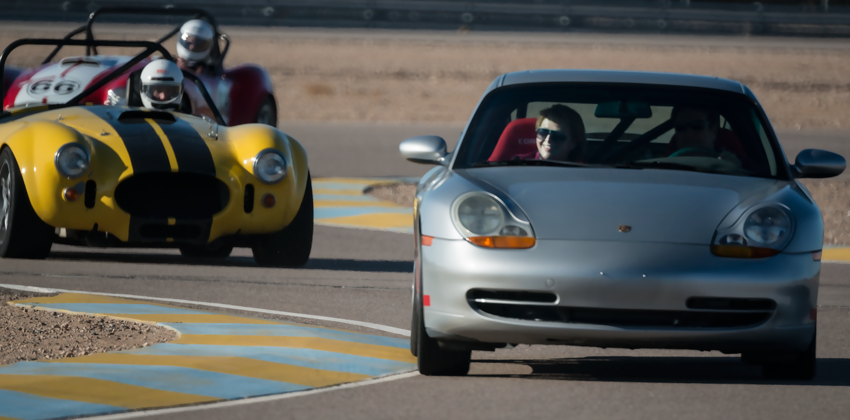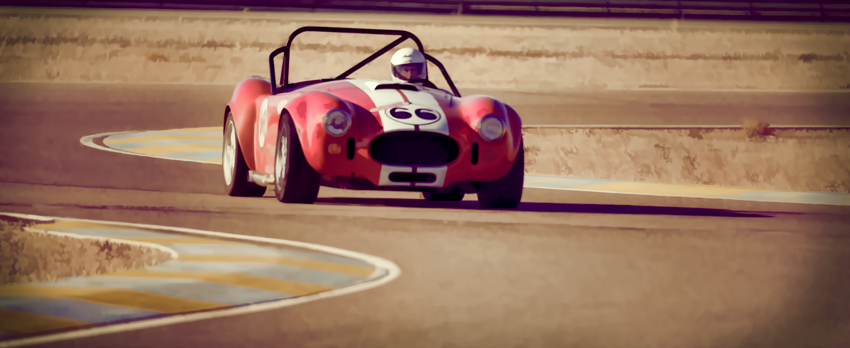 A Porsche in our future?  A wild and woolly cross-country run of 2,200 miles in four days.
A great philosopher named Hen3ry (the three is silent) once said that you can tell an imminent purchase by the size of the smile.  Well, if Wendy's smile is an indicator, there is a Porsche racing track car in our near future.
So where to begin?
Since I was a kid and a car guy, I have owned, built and raced some fine cars.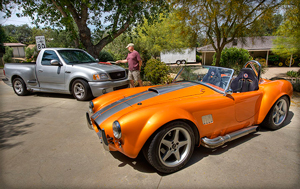 Now nearly 15 years ago we were working on some team events for our Orion Group and decided to look for someone to do a racing team building event.  We search high and low to find a provider that would spend most of the time on the track with hot cars versus a few quick laps in something less than race worthy.  It was then that I spotted an ad featuring 1965 Ford AC Cobra's.  I called the guy who ran the company and we talked for nearly an hour.  I was so comfortable with this Canadian ex-downhill skier that we retained him for one of our top clients without ever meeting him or seeing his technique.  Nearly 15 years ago, we met in Houston at a track designed and built by famed racer, John Mecum.  The event went off flawlessly and it began many years of working together and become fast friends.
When I was young, I owned lots of hot cars.  The one I lusted after was the Ford AC Cobra.  The fact that David raced them was a plus, but our love for the Cobra was not just skin deep.  In fact, I am somewhat convinced that what hooked Wendy on the Cobra was not the cute small body with a monster V8 stuffed into it, but the sound of that big block Ford that got her attention.  See, it was a trip to Sebring to look at the new GTP Cadillac racers that the first sound bug bit Wendy.  Standing in the first turn after the straightaway, we watch these exotic secret Cadillac's turning incredibly fast lap times.  Then it happened.  The sound whipped Wendy's head around.  On the track out of sight, was this tremendous sound of a very big block engine coming our way.  As it roared past, Wendy said, "WHAT IS THAT?"  Indeed, it was a 427 cubic inch Chevrolet in a formidable racer known as a Cheetah.  She was hooked and it seemed that the car I lusted after would be ours based on the grin on Wendy's face.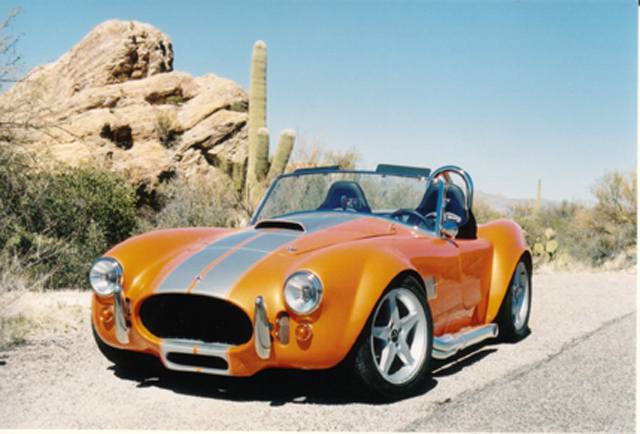 Well, with David's help and guidance, a short time later we owned a very wicked big block Ford Cobra.  Ozzy, as he is known, is still with us and lives with our friend Dennis's Porsche in Thousand Oaks California.  Dennis gives him a proper exercising and we get to spend time with him cruising pacific coast highway when we are in Malibu.  What is significant is that Wendy always comments on Dennis's Silver GT Porsche
So, you might ask, why does this have anything to do with a Porsche?  It has something to do with a smile!
Back to the story, I owned and raced Porsche's in my miss-spent youth.  But, that actually has very little to do why I think there is a Porsche in our future.
Fast forward to this past fall, we were headed east for meetings and visits when we encountered Hurricane Sandy.   We were visiting dealers and had meetings in Cincinnati when we heard about the hurricane heading toward New York and the east coast.  We decided to move further south to Knoxville where we could get south of the storm and wait out until we could head-up I-81 to the Baltimore area.  In short, we were cut off by two feet of snow and there was no place for us to stay after the hurricane.  So, we did the honorable thing and headed to Orland and Disney World for a little vacation and to get some work done during the Christmas selling season.
Our plan was to stay at WDW until before Christmas and then head west spending Christmas somewhere along the way.  The plan was to take it slow and stop to see things, friends and eat our way across country.  We were scheduled to arrive in Southern Cal after new years and this plan would give us nearly two weeks to make it across the US.  This was a very long time for us, but we were looking forward to it.
So we set out from WDW headed west along I-10.  Wendy has become quite the meteorologist and uses our real-time onboard doppler radar and weather maps to navigate through some pretty bad weather.  It was within the first hour of our trip west that she said, "Not Good!."  I am smart enough to pay attention when she says that and she quickly briefed me on weather that would hit us square in the nose somewhere in Alabama.  That quickly, the plans changed and we ran to the Mississippi and Louisiana boarder to Stennis Flight Center where we knew that we could hole up over night.  As we settle in after a 600 mile run, we switched on the weather channel to see that we had just missed numerous tornados. So, now the plan had changed.
When we woke, we changed our plans to spend Christmas and a few days later in Louisiana's Boudin Trail.  This trail of Creole cooking restaurants make a fried chicken like ball made from a Cajun sausage that resemble eastern scrapple.  Trust me, it does not sound good, but it is Cajun heroin.  We thought that we would eat our way through these fine restaurants and be the judge ourselves which was the best.
So, it was wheels up out of Stennis headed west when Wendy said it again, "Not Good!"  You guessed it, another front and potentially worse weather.  So now the plan changed again and we knew that we needed to get west quickly and that we had two days to clear the weather.
We hit Louisiana early and ran to Scott LA where we parked the rig and headed back for Boudin Ball and some Cajun supplies like crawfish, Andouille and Boudin Balls.
On the road again, we ran to an obscure rest area just east of Houston and spent a very quiet night slides out with a handful of truckers.  Up early, we ran to Fort Stockton in west Texas and then onto our favorite stopping point in Las Cruces NM by Christmas Eve.  We walked into the old town Messila for their traditional Christmas and an early dinner at Andele.  We spent a few days there catching our breath as we had traveled around 2200 miles in four days.  So much for our quiet run across country.
Now west, we resumed our plan and headed to Gila Bend for this quiet little campground to spend a quiet new years before heading to California.  We were not in the campground more that a few minutes when Wendy's iPhone plinked with the sound of a text.  It was David and his text was one that we are constantly used to receiving.  "Where are you guys?"  "Gila Bend Wendy texted back."  David came back as quickly, "let's get together."  The it was time for sleep.
The next morning Wendy texted David,  When do you want to get together?"  A cryptic message came back, "On track teaching a class."   Wendy's eyes lit up as one of her favorite places to be on earth is a race car track and believe me we have been to most of them in the US and Canada.  She asked me, where could David be and I said it has to be Goodyear because Phoenix International is controlled by Bondurant, a competitor of David's.  Wendy quickly texted back, "we are close!" David texted back, "Come on and bring your driving shoes.  I have a Turbo Porsche Carrara Bob needs to drive."  A quick shower and we were off.
So, are you getting an idea of our lifestyle?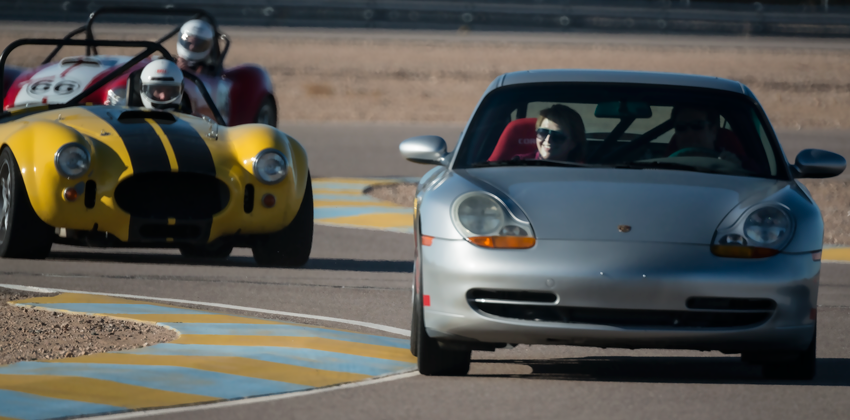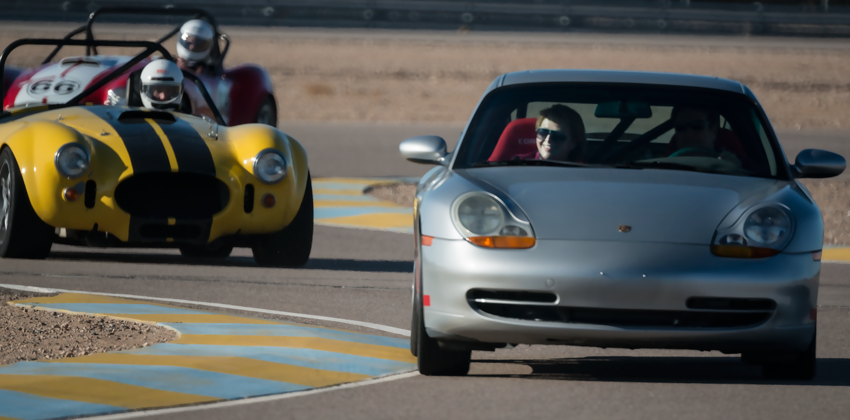 We arrived at the track and David was there to greet us.  It was a nice reunion and we spent some time watching the students practice what David had taught them.  Then it was time for an exercise that David calls the Mother Duck.  Simply, as a pro-racer and stunt guy, David gets into the lead car and then drives the perfect race line around the road course.  The students follow before he let's them free to race on their own around the track in the Cobra's.  He asked if I want to ride with him, so I jumped in and Wendy had the camera.  David and I drove around mostly chatting about what has happened since we saw each other as the students struggled to keep up with him.  It was sort of like that scene from Butch Cassidy and the Sundance Kid when they were chatting during a gun battle.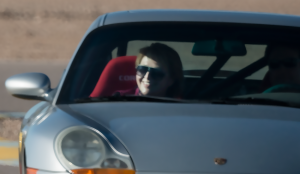 Next it was Wendy's turn with the second group to experience the exercise.  As they drove off, it was the first time I detected that smile.  Ear to ear smile!  As they rode around the track going faster and faster, Wendy's smile got bigger and bigger.  It was so noticeable that I trained my long lens into the Porsche to capture it.  Pulling into the pits, it was evident that the smile was going to stay there for a long time.  Knowing here, I said, "How was it?"  "Great ," she said and I knew to stay quiet.  Just a few moments later, the words slid out.  "We need to get one of these!" and she waited for my response.
So, we got the cars put in the trailer and went to dinner at a local Creole restaurant in Avondale.  The dinner conversation was punctuated with questions about the Porsche as well as that smile still on her face.
So, we are going to spend new year's day with David at his house in Scottsdale where a number of Corvettes, a GT40, a Royale Formula Ford, numerous motorcycles and that Porsche.    As we always say, Film at 11!
Below is a video of the Mother Duck exercise.
[jwplayer config="16-9 720″ mediaid="2259″]