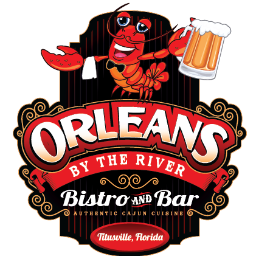 Chill Travelers Rating: [usr 8]
We often joke that we can pass almost any restaurant except a Creole Cajun eatery.  Like BBQ, the other truism is that "there are no bad Cajun restaurants."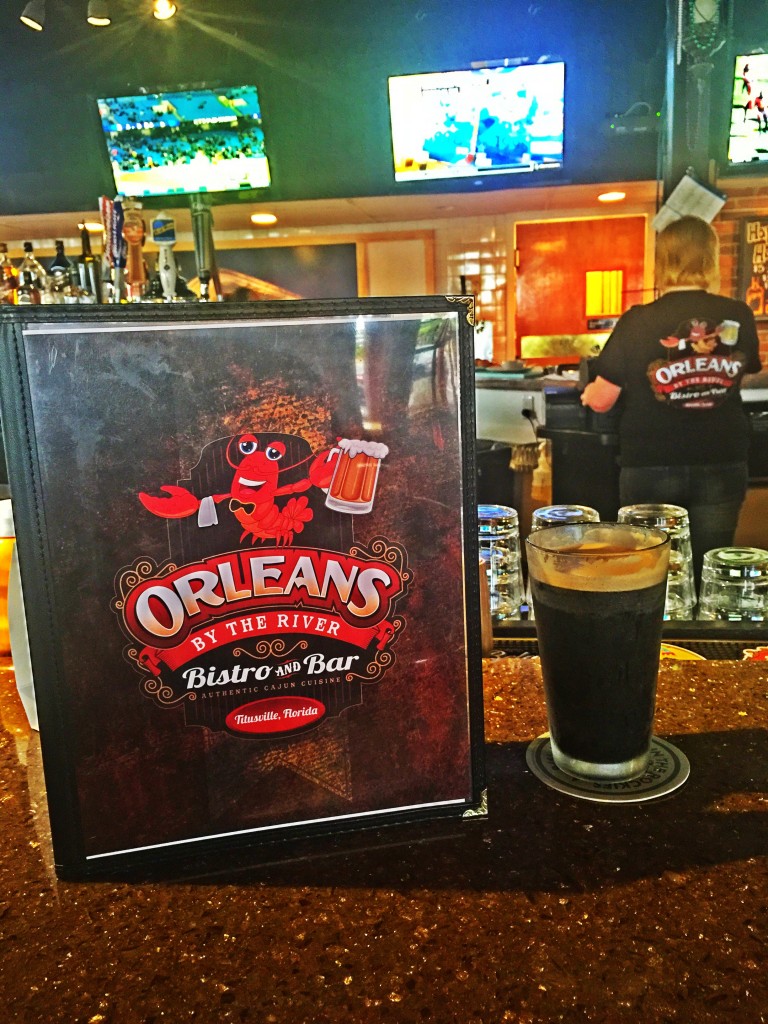 We were cruising last Faturday headed for one of our favorite oyster bars when we saw Orleans By The River on the main drag along the water heading toward downtown Titusville Florida.  The outside and signage screamed New Orleans.  We did a U-Turn and pulled into the parking lot.  A quick look at Zomato and there was no listing.  This meant it was new and ready for a review by Chill Travelers.
We walked in and were greeted by some New Orleans Jazz streaming out of a high tech juke box.  Clearly this was a new place which we confirmed that it was just two months old.  The interior is upscale and inviting.  As usual, we chose the bar to eat at because we can learn so much from the bartender and in this case a chance meeting with the owner.
We ordered a couple of dark beers on tap from the well stocked large authentic New Orleans bar.  They offer traditional New Orleans drinks like Hurricane's and just about any other beer, wine or spirits.
Often we try a few different appetizers when we find a place that we will be able to frequent.  It helps us initially rate the food while giving us a chance to learn about what people that work there like to eat.
So we opened the menu and to great surprise, we eyed Boudin Balls fried Louisiana style.  They have both pork and chicken Boudin.  It comes with a ranch dressing…wrong!, so we ordered Remoulade on the side.  They arrived quickly and there were six very large balls per order.  The first bites were just the Boudin Balls without sauce.  Lightly spicy, they were the real deal.  Our gauge is always Billy's in Scott Louisiana just outside Lafayette.  If Billy's are a 10, which they are, Orleans was a solid 7.5.  This would put them on a par with Don's which is also in Scott.   So, damn good.  Adding the Remoulade kicked them up a notch and we used the ranch dressing for some good fries that local Yelpers talked about.  Nice!
So, this is a first review.  We will go back for the Gumbo, Jambalaya and other Creole treats.
It is hard to find a bar/restaurant in Titusville that has good dark beer on tap and good food.  Imagine our delight that Orleans is also a Cajun Creole bistro.  Our new GoTo for a quick bite and beer in Titusville.
The main thing we will try next is a fried oyster Caesar salad.  Your will have to ask for it because they currently only offer the Caesar and a fried oyster Po'Boy.  I am sure they will make it for foodies that long for the fried oyster Caesar and K-Paul's in NOLA.
Orleans is shaking out really nicely even though it is a privately run restaurant that is only two month old.
Update
Stopped by for a quick bite and brew for lunch.  Had the special half Po Boy and Soup.  Chose the oyster Po Boy and Gumbo.  Outstanding gumbo with dark roux and the right amount of spices.  Reminded me of K-Paul's.  The Po Boy was authentic and they offered the Remoulade sauce and a special Cajun mustard sauce.  Both were great  The Po Boy French Baguette was fresh and the oysters were cooked to perfection.  Would recommending spicing up the batter a bit on the oysters if serves separately. Just hinting again that they need fried oysters separately.
To the owner, we always have recommendations. 😉  As certifiable Creole foodies, it is probably good to listen up ;-).
Titusville and the area is all about oysters.  Offer fried oysters in 6, 12 and 18 so that people can build a fired oyster Caesar and other things.  Creole spice them to differentiate yours from the others around town.
Offer raw oysters with assorted cajun hot sauces on the side.  Probably will double your business right out of the shoot.
The Boudin Balls are great and should be served with Remoulade on the side.
Be authentic NOLA.  New to Titusville, adapting to the community likes will not serve you.  Your success will be teaching Titusville to challenge their taste buds.  So appeal to all those space guys that are starting to show up again in Titusville.
If you can get Playalinda beers on tap, you will make lots of people very happy who want to eat and drink their beer.
Turn the music up and you will be fine!
Lastly, we requested that your restaurant be added to Zomato (formerly Urbanspoon) and will post this review and ranking when it goes live.