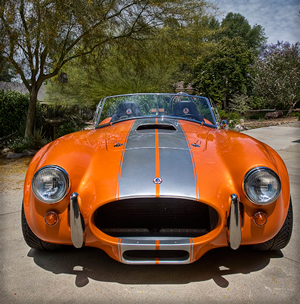 Being a car guy is somewhat difficult to explain given my treehugger work life.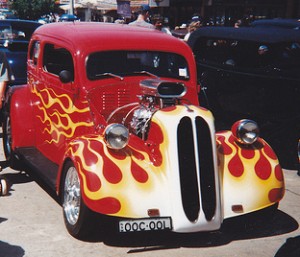 Growing up as a car guy in the 60's was an extraordinary experience.  My dad and I customized cars, built them, rebuilt them and drove them on the track as well as a few misguided moments as a street racer.   The list of cars ranged from my first which was a 1951 Studebaker, to various 1950's vintage Cadillac Ambulances as well as some very modified and very fast machines that probably should have killed me.  A Thames panel truck, the size of a VW bug, with a supercharged 392 Chrysler Hemi to  Bug-Eye Sprite with a 283 V8 Chevy were just a few of the hot-rods.
In 1964 when Carrol Shelby introduced the Ford AC Cobra, I went to the local dealership to see one.  I remember it as if it was yesterday.  I walked into the showroom and my heart stopped.  It was a red with white stripes AC Cobra with a 289 Ford motor not much more than stock.  Still, it was like strapping a rocket on your back and navigating the streets on roller skates with the rocket at full throttle.
Now many years later, at Orion, we met an ex-Olympic downhill racer turned race car driver.  We were taking a team from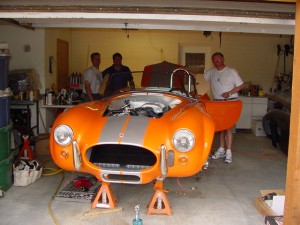 Pfizer to David's Cobra Experience and we headed to Houston Texas to meet David and the cars.  When we arrived, my passion was rekindled and Wendy immediately caught the bug.
So after just a short period, we were in Scottsdale at David's garage building one of our own.  Wendy said it had to be orange because she is a Tennessee Vol alumn and I wanted a bit more than a cut above a stock motor.  By the time Wendy, David, Ryan, Disney and I finished, Ozzy was born.   He was orange….very orange!  The car was built more as a track car, although street legal.  The motor was basically a Roush Nascar detuned Nextel Cup beast with racing sidepipes that let him breath.   He had the looks and the chops to take on just about anything on the streets anywhere.  0 to 60 mph was around 3.2 seconds, over 1 G cornering force and a top speed that was in excess of 180 mph.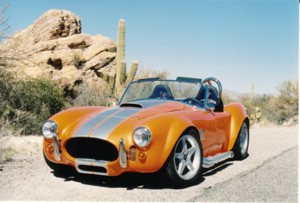 So Ozzy became a part of our family and we took him in his trailer, Harriot, many places.   Ozzy traveled to the Florida Keys and events across the US.  One even found him the center of controversy at a Cobra event with over 400 of them showing up.  After all, everyone knows that Cobra's are not supposed to be orange.
As Keys grew, we had less and less time for Ozzy.  I would take him out on spring and fall weekends in Annapolis to clear his throat and wakeup the colonials.  Still, I felt bad that he was sitting most of the time in his trailer.   I thought about selling hime which truly would have broken my heart.   After so many years since I saw the first Cobra to fleeting moments seeing an occasional one on the road to building and owning my own custom machine would have been terrible to lose.
While on a trip to New Mexico, we met our now dear friend Tina and Dennis.  Dennis and Tina are as big car guys as Wendy and me.  We talked with them about becoming foster parents and moving Ozzy to their home just north of Los Angeles.  It was settled, Ozzy would move to California where he could cruise 365 days a year.  So, we hired a transporter, packed Ozzy into Harriot and sent him to Tina and Dennis where he now lives.
Wendy and I spend a great deal of our time in the LA area because it is where most of our business comes from.  So, when we arrived in LA/Malibu, it was a perfect time to bring Ozzy over for a couple of weeks of cruising and hanging out with a few of his closest friends.  Ozzy's story is much longer and worth much more than my words.  We compiled this video during his stay with us and close encounters with a few close friends.  😉
Enjoy Ozzy's latest adventures!
[jwplayer player="3″ mediaid="3212″]