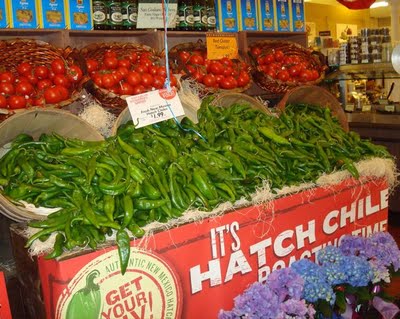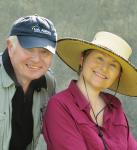 Chile Roasting Time in New Mexico – Chill Travelers, reporting!
There is just no way to describe the aroma that fills the State of New Mexico at this time of year.  Hatch Chile, near Las Cruces, NM gathers their crops of New Mexico Green Chilies and loads up semi's to transport them all over the state for onsite roasting.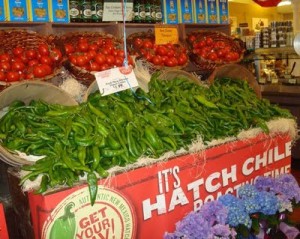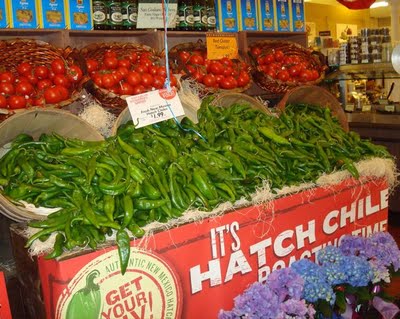 One of the major destinations is Santa Fe the State capitol.  Just about every parking lot and every grocery store has gas roasters that fire up in the early morning and through the evening.  Most are hand made rotating cages with huge burners that will level a man-size bag of green chilies down to a large Ziploc bag in just a few minutes.  You cannot miss the smell, but if you have not seen the process, you might wonder what that aroma is.  Seeing the sun rise over the mountains, a fresh brewed cup of coffee in hand, the smell is intoxicating. So, next time you are cruising through Santa Fe from mid-August and through September, follow your nose.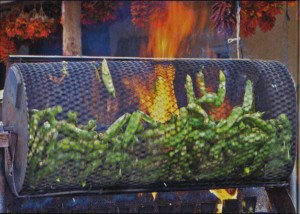 Now here comes the warning.   And yes they are usually spicy hot, but that is not the warning!
Warning!  If you buy a bag of fresh roasted chilies, be prepared to spend 8 to 10 hours cleaning them, bagging them and tossing them into the freezer.  Yes, because these are whole chilies, you need to, one-by-one, remove the burnt skin, slice them open and remove the seeds.  Wendy did just that for 10 hours sitting at our RV spot overlooking Santa Fe.  Lots of hours, lots of plastic gloves and every half-hour punctuated with the comment, "I will never do this again!"
So if you think you will just go buy a small bag from a store it is a hard task.  We found a small container at Whole Foods downtown and it was selling for nearly the same price as the whole bag Wendy bought.  Locals who are known for their sharing and hospitality do not share their chilies.  Nowhere could we find a roadside vendor selling roasted and cleaned chilies.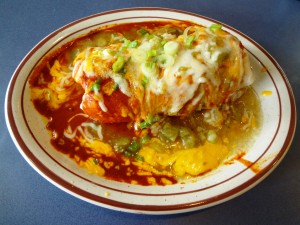 So maybe the next best bet is to go to the Pink Adobe for a New Mexico Burrito smothered with red and green chile sauce…known locally as Christmas.  Harry's Roadhouse will also find the likes of Jane Fonda and Val Kilmer eating something with "Christmas" on top.
For the true "foodie" chefs, if you want the very best flavor for a recipe calling for Green Chile, you have not other choice then to suck it up and learn how to roast, peel and seed these wonderful New Mexico green gold chilies.  For our foodie friends wanting us to send some o our cache… forget it!  It ain't happening.